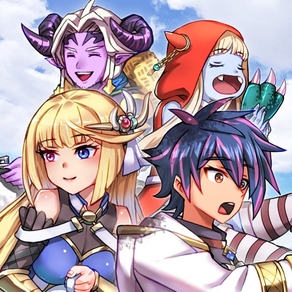 RPG Isekai Rondo
A parallel world adventure RPG
1.1.5
for iPhone, iPad and more
RPG Isekai Rondo Screenshots
About RPG Isekai Rondo
Sho, a young man who spends his days in an exploitative company in modern Japan, is reincarnated into a parallel universe as Shaw, due to an accident!

While the job given in his new life is 'Unemployed' and hardships continue with a bad luck party, one day he acquires the ultimate job as a Sage, suddenly becoming the strongest with ultra rare passive skills!

Aiming for the long-awaited mellow life he finds himself in a battle to defeat the Overlord after meeting the Hero Viola.

With exceptional passive skills that for example can change the future by returning before Game Over, get rid of enemies in turn-based battles by summoning spirits or managing mana plants, or even use the skills of monsters!

Complete quests and raise the guild rank so you can challenge deeper dungeon or other adventuring parties, too! With other elements such as a battle arena and the dungeon where treasure chests are automatically generated, your adventure against the Overlord's Army will surely be an unparalleled quest to finally gain a calm, modest life!


* This app supports devices newer than iPhone 7 and iPad 6th with iOS 12 and up. User support on non-supported devices is not guaranteed.
What's New in the Latest Version 1.1.5
Last updated on Feb 14, 2023
Old Versions
Fixed the issue of Famin's Monster Skill, Assist Song's Japanese description not displaying correctly.
Version History
Fixed the issue of Famin's Monster Skill, Assist Song's Japanese description not displaying correctly.
English version released!
RPG Isekai Rondo FAQ
RPG Isekai Rondo is available in regions other than the following restricted countries:
El Salvador,Zambia,Libya,Pakistan,Turkmenistan,Azerbaijan,Papua New Guinea,Saudi Arabia,Grenada,Kyrgyzstan,Bermuda,Suriname,Senegal,Cambodia,Niger,Israel,Montenegro,Mozambique,Chad,Armenia,Egypt,Tanzania,Vanuatu,Uzbekistan,Jordan,Oman,South Korea,Lebanon,Iceland,Sao Tome & Principe,Anguilla,Sierra Leone,Yemen,Iraq,Swaziland,Turkey,Belgium,Liberia,Macedonia,Albania,Ghana,Jamaica,Madagascar,Myanmar,Nauru,Bosnia & Herzegovina,Botswana,Cameroon,St. Kitts and Nevis,Morocco,Montserrat,Turks and Caicos,Dominica,Kenya,Cote Divoire,Moldova,Mauritius,Netherlands,Rwanda,United Arab Emirates,Benin,Tunisia,Nicaragua,St. Lucia,Barbados,Micronesia,Sri Lanka,Belarus,Gabon,Georgia,Guinea-bissau,Seychelles,Trinidad and Tobago,Bahamas,Congo, Democratic Republic,St. Vincent & The Grenadines,Kazakhstan,Honduras,Mongolia,Nepal,Cape Verde,Algeria,Fiji,Kuwait,Maldives,Nigeria,Panama,Afghanistan,Angola,Belize,Solomon Islands,Qatar,Cayman Islands,Malawi,Tonga,Uganda,Dominican Republic,Gambia,British Virgin Islands,Kosovo,Guatemala,China,Burkina Faso,Bhutan,Congo,Antigua And Barbuda,Mali,Mauritania,Palau,Tajikistan,Zimbabwe,Bahrain,Costa Rica,Guyana,Namibia,Serbia,Brunei Darussalam,Lao Peoples Democratic Republic
RPG Isekai Rondo supports English, Japanese
RPG Isekai Rondo contains in-app purchases. Please check the pricing plan as below:
Check the following list to see the minimum requirements of RPG Isekai Rondo.
iPhone
Requires iOS 9.0 or later.
iPad
Requires iPadOS 9.0 or later.
iPod touch
Requires iOS 9.0 or later.
Related Videos
Latest introduction video of RPG Isekai Rondo on iPhone
RPG Isekai Rondo Alternative