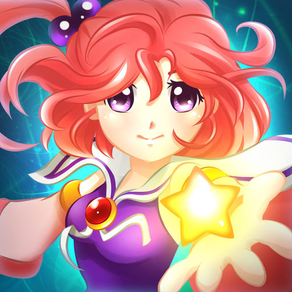 Sailor Witch Miru Screenshots
About Sailor Witch Miru
Sailor Witch Miru is a student of witchcraft. Imbue with great power of the star and moon, she is still honing her spell casting skills into becoming the most powerful witch. An event takes place when there is an imbalance of nature. Nightmare creatures made from the human's fear spawn up, attacking the earth and it's up to Miru to vanquish the forces of darkness.

FEATURES
* Exciting Power Levels!
* Buy Stats of Life, Damage and Critical Strike using Game star coins that customizes your strength!
* Challenging Enemies!
* Cast Spells to help you in battle!
* Check out the Skill Wheel!
* Get companion 'Star Kitty' and receive a new spell!
* Endless battles!
* New challenges awaits!

SPELLS
As you progress, each of these spells will level into a more powerful version and dish all enemies on sight.
* Moon boomerang, Moon Scythe
* Light beam, Super Flash
* Star comet
* Astral Projection shield

About Sailor Witch Miru:
Miru is a princess of the crystal millenium and heir to the successor The Serenity Queen who wield the power of the silver and gold crystal powers of the moon. As she learns how to use her powers of the light, she force herself to fight the evil shadow villains that attacks at night. Given by the power of the moon she is able to cast them away using the twinkle stars and moon light power.
Miru is a manga anime styled character from the Silver Millenia of the 25th century. She transforms using an artifact Legendary Silver Crystal, a Power Stone that gives her special powers and become one of the Sailor Guardians to prevent the destruction of the Solar System.
Her mission is to infiltrate the shadow beings and find the source of their negative aura and purify it with her light and love to bring courage to little kids.
She is also aided by her cat Diana Star to look after her. Diana Star uses healing spells and cosmic power attacks to bring out Miru's full potential in fighting.

GAMEPLAY
The game is as easy as dragging Miru in to move around to avoid shadow beings and their attacks. Miru will automatically attack using her magical moon stick wand to shoot away that light. As you level up you get to gain new spells to help you even more!

ENEMIES
These are shadow being being created by fear that children posses. These negative energies form a huge amount of dark power and creates scary living creatures. Only the soldiers of the Silver millenium is enough to defeat these villains.

Power Up!
In the Main screen before you play the game, you can set Sailor Witch Miru's life, damage and critical strike making her the most formidable super heroine that fears the evil forces of doom.

Unlock Full Game:
– When you get the Full game version, you will gain Star Kitty. It can heal you when you have been damages, and can also cast 'star missile' as an addition to spells. When you reach level 30, Star Kitty will have a new attack that can heal you and damage the enemy.

The game is suitable at all ages and genders who likes and this game is inspired by all magical girl anime of all time. It is fun and easy to play. Players who loves fighting game, side scroll and role playing will easily adapt to the gameplay environment!

-----------------------------------------------------
Credits:
John ACE- Developer/Producer
Ghini Lorbis- Game Artist
Justo Cascante III- Video Edits, special thanks.
What's New in the Latest Version 2.5.5
Last updated on Aug 26, 2017
Old Versions
Sailor Witch Miru FAQ
Check the following list to see the minimum requirements of Sailor Witch Miru.
Sailor Witch Miru supports English
Sailor Witch Miru Alternative