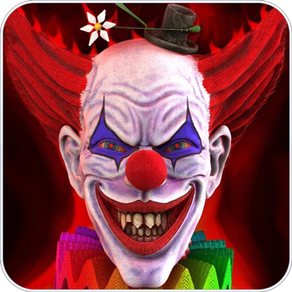 Scary Clown Killer Attack Game
Scary Clown Killer Attack Game Screenshots
About Scary Clown Killer Attack Game
Clown scary once again back on the top of terror in city to spread horrible fear among the people. Horrible harbingers of clown hero at the end times, the worst clown distort a symbol childish fun and clown scary attack innocent people but you should save people from the clown attack by using supremacy power. Gaming has its fair share of freaky, creepy and unnerving clown, so let's terror right in the face due to clown attack and check out freakiest clowns in the medium of this amazing scary killer clown 2018.

Scary clown killer attack 2018 in this game introduce new genre of killer clown attack games with creepy clown simulator. You heard about the story of the clown, who disturbed the streets of New York with clown hidden attack and people life style ultimate survival not possible in this thrilling games. In Halloween night scary clown kill the innocent civilians by using super power of their hammer, which made of metal.

Where is your clown mask? Find your clown mask and wear it, then you feel realistic creepy clown attack which bring revolution for mobile games and enjoy amazing new idea clown hero simulator games. Creepy clown survival doing crime in the city, murdered innocent people in USA city and break the law become a criminal in city and no one able to stop the creepy clown attack.

GAMEPLAY OF SCARY CLOWN KILLER ATTACK:
This game has beautiful 3d environment which scariest clown spread fear among the all citizen but this game gives your lifetime experience of being the horror clown and scare the people with dirty clown shape. Angry clown uses different attacking styles like jumping attack, flying kick attack, leg flick, fire tire, hammer attack and combo crack attack. Enjoy user friendly gameplay

Game Controller:
This game use simple controller which is user friendly controller and use realistic joystick.
A button : scary clown makes circular attack and capture the citizen by lazar power.
B button : scary hero makes jumping attack and hitting the people with action attack
D button : spread super power and use blast attack on innocent fear people
Blast button : spread the bomb blast among the people and destroy all city
Hammer button: scary killed clown use hammer to kill the people.

Joystick control the direction of clown simulator which roaming in the city and disturb everyone. No one have enough power to stop the angry clown

SCARY CLOWN KILLER ATTACK GAEM FEATURE:
• Thrilling action and Realistic clown animations of hitting 
• Multiple clown simulator
• Hunting secret attack
• Halloween city environment
• Terrible and fear among the citizen
• Addictive gameplay
• Clown adventure 2018
• Realistic natural sound effect
• Smooth and institutive control
• Lots of ghosts, monsters and evil creatures
• Multiple action packed destruction & killing missions.
 Use Handy hammer to Terrorize of innocent civilians.
What's New in the Latest Version 1.0
Last updated on Jan 19, 2018
Scary Clown Killer Attack Game FAQ
Check the following list to see the minimum requirements of Scary Clown Killer Attack Game.
Scary Clown Killer Attack Game supports English
Scary Clown Killer Attack Game Alternative