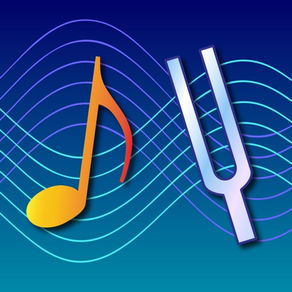 Sing-inTuna
Learn to Sing in Tune
2.7.1
for iPhone, iPad and more
About Sing-inTuna
Can you sing in tune? Learn to sing (or play an instrument) accurately in tune with HotPaw Sing-inTuna's color-coded pitch graph.

Sing-inTuna uses the built-in microphone on your iPhone or iPad to analyze and help you visualize if you are singing, or playing a musical instrument (such as a violin), precisely on the right pitch. It graphs pitch on a scrolling graph resembling a musical Grand Staff. Tones that are on-pitch (+-20 cents) are colored green; notes slightly sharp: red; notes a pinch flat: blue.

You can also display an optional pitch frequency spectrum of your voice to see your timbre.

Sing-inTuna requires a quiet environment with no accompaniment or harmony, and monophonic pitches that are at least a quarter second long. The pitch range using the built-in mic is about +-2 octaves from middle-C, depending on microphone use, loudness, and timbre.

Note: This app produces no sounds and shows no sheet music. It only listens so that you can see your pitch, and how well your pitch matches that of a well tuned equal-temperament instrument.
What's New in the Latest Version 2.7.1
Last updated on May 31, 2021
Old Versions
Updated support for newer iOS devices.
Version History
Updated support for newer iOS devices.
This app has been updated by Apple to display the Apple Watch app icon.

Bug fixes.
Updated for iOS 11 and the iPhone X
A few minor bug fixes to better support the latest iOS versions.
Bug fixes for iOS 9.
Enhancements for the new faster iPhone 6s audio sample rates.
Updated for iOS 8 and iPhone 6 and 6 Plus devices.
Added +- 10 cent markers to the top pitch indicator.
Added configurable transposition for Eflat, Bflat and F instruments.
Bug fixes for some Just Intonation frequencies.
Updated for better iOS 7 compatibility.
Enhanced for new iOS devices, including the iPhone 5.
Improved spectrogram accuracy and rendering.
Added sound sensitivity control. (Tap the volume gauge to bring up).
Added a mode to display notes 1 octave up, so bass singers can see their pitch on the treble clef.
Added selectable tuning accuracy (to +-6 cents).
Smoothed frequency meter movement.
Spectrum display accuracy improvements.
Please see the HotPaw Music Spectrograph app, also in this App Store, for an even more informative piano roll style pitch spectrum graph.
Bug fix for app occasionally freezing up on restart from background after using another audio or music app.
Improved audio analysis and graphics performance.

Please also take a look at the new HotPaw Music Spectrograph app (also in the App store) which can display a scrolling polyphonic piano-roll graph of sound and music.
Bug fix to allow iPod music to continue playing when using a headset.
New icon.
iOS 4.0 compatibility enhancements.
Now a Universal app supporting the iPad landscape display.
Added a musical note symbol to make reading the staff display easier.

Improved the pitch range, plus better background noise rejection.
Improved the optional pitch spectrogram display.
New feature: Tap the right side of the staff to block recognition of pitches that are too high or too low.

OS 3.0 compatibility fixes.
Frequency range enhancements on 3GS devices.
Added pitch history mode: When paused, you can now scroll back to review 1 minute of pitch history.
Added harmonic spectrogram mode. See if your harmonics are in tune as well as your estimated pitch.
Sing-inTuna FAQ
Sing-inTuna is available in regions other than the following restricted countries:
Afghanistan,Kyrgyzstan,Peru,Tanzania,Uganda,Belize,Turks and Caicos,Tonga,Swaziland,Fiji,Micronesia,Hungary,Cambodia,Bulgaria,Belarus,Congo, Democratic Republic,Mali,Malta,Tajikistan,Bosnia & Herzegovina,Sri Lanka,Nicaragua,Uzbekistan,Albania,Brunei Darussalam,Congo,Guatemala,Guyana,Oman,Qatar,Egypt,Libya,Poland,Romania,Solomon Islands,Gambia,St. Kitts and Nevis,Cote Divoire,Palau,Seychelles,Bahrain,Benin,Gabon,Nigeria,Azerbaijan,Dominican Republic,Mozambique,Venezuela,Cameroon,Nepal,Slovakia,Suriname,Zimbabwe,Cape Verde,Cayman Islands,Vanuatu,Angola,Grenada,Papua New Guinea,Serbia,Bolivia,Morocco,Macedonia,Pakistan,Saudi Arabia,Senegal,Sao Tome & Principe,Barbados,Ghana,Montserrat,Chad,Lao Peoples Democratic Republic,Rwanda,Honduras,Malawi,Anguilla,Georgia,Nauru,Bahamas,Guinea-bissau,Kazakhstan,Dominica,Greece,Moldova,Liberia,Mongolia,St. Vincent & The Grenadines,Antigua And Barbuda,Armenia,Iraq,Madagascar,El Salvador,Trinidad and Tobago,Yemen,St. Lucia,Mauritius,Namibia,Niger,Thailand,Kosovo,Zambia,Algeria,Mauritania,India,Kenya,Paraguay,Sierra Leone,Burkina Faso,Indonesia,Montenegro,Myanmar,Macao,Maldives,Bhutan,Panama,Turkmenistan,Tunisia,Botswana
Sing-inTuna supports English
Check the following list to see the minimum requirements of Sing-inTuna.
iPhone
Requires iOS 12.3 or later.
iPad
Requires iPadOS 12.3 or later.
iPod touch
Requires iOS 12.3 or later.