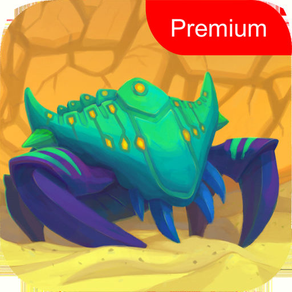 Spore Monsters.io 2 [Premium]
Spore Monsters.io 2 [Premium] Screenshots
About Spore Monsters.io 2 [Premium]
Spore Monsters are coming back! Now these creatures are even more insatiable, fierce and hungry. No one knows where did they come from. Are they aliens or were genetically created in cell labs? Anyway, this time there are much more angry monsters than it used to be. More different species and evolutionary forms.

This bay is too small for this amount of creatures! Take part in a fierce clash for the territory, becoming one of the terrible deep sea monsters. Destroy your enemies, absorb their genetic code (DNA) and evolve in order to truly dominate those players who dare to challenge you. Become a monstercrafter and decide by yourself how your new monster will look like. Feed and grow your own fighting monster. Don't make monsters starve! Use genetic code collected in clashes of monsters and create a new organism. But remember, in this dangerous universe there is no space for herbivore species of monsters. Only carnivorous predators can survive and evolve. This place is for meat eaters only.

The strategy is simple:
- Attack the weak and flee from the more mighty and angry monsters or hide somewhere and stay invisible until they pass or get distracted by another victim.
- Improve your armor and fins to survive in this dangerous and evil world
- Help your horrifying spikes grow into powerful claws and demonstrate your strength in the group battles
- Enjoy the view of the remains of your enemies and atmospheric game music

Mighty monsters and fierce creatures constantly lead a permanent clash of monsters against each other for the territory, food and survival. Go deeper into it and learn more! Conduct a microtrip in this amazing world of fighting predator creatures. You can not only try to play survival game and hide in the sandy field but also become best friends with other spore monsters. Anyway, it is one of the really relaxing and addicting games.

Features:
- 3 new unique evolutions of mighty monsters.
- Plenty of new objects on the map
- Special quest
- New evolutionary tree and store

--------------------------------------
Premium features
- No banner and interstitial ads
- Starter bonus: 2000 DNA and 2 LVL Points
So you can start the game with a cool monsters from the very beginning!

--------------------------------------
Follow us on facebook:
https://www.facebook.com/coongamesstudio/

Since last time this bay become a really busy place, where now not only one kind of monsters is dwelling. Now many more furious creatures set their heart on this territory. Giant sand worms who are ready to absorb and devour anyone who dare to come close enough to its abyssal jaw. Gigantic crab who does not take part in this war, but who constantly observe the fight of its smaller genetically similar species.

Start as a tiny nasty wood louse looking creature that can hardly survive several seconds in this unsafe environment. Run away if you see another moving objects like monsters, deadly spiky balls, worm holes, devour DNA of other wild monsters and just collect DNA scattered over the territory. Try to find your ark of survival. The only way how you can survive is to constantly evolve, acquire new skins, improve parameters of the insect and constantly change the tactic against other insatiable monsters.

There are three main evolution stages available but each of them has hundreds of configuration allowing to make your creature truly unique! Just eat DNA all four seasons long and evolve!

The tactics available for players vary tremendously! Depending on the monster's evolution stage it can become a tiny weak but very fast monster or, in contrast become a furious, mighty and dangerous monster easily devouring other inhabitants of this tiny universe, showing its power in clashes. It is completely your decision on which skins and parameters to spend the DNA collected in the battles and which evolution path to choose. Choose and evolve wisely!
What's New in the Latest Version 1.0
Last updated on Aug 6, 2018
Spore Monsters.io 2 [Premium] FAQ
Check the following list to see the minimum requirements of Spore Monsters.io 2 [Premium].
Spore Monsters.io 2 [Premium] supports English
Spore Monsters.io 2 [Premium] Alternative