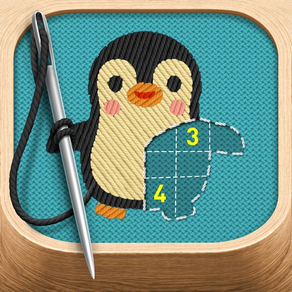 stitch.
Stitch it up to puzzle out
1.10
for iPhone, iPad and more
About stitch.
Stitch. is a casual puzzle game with embroidery on a numbered grid. The main objective is to fill in the levels' areas with no gaps to complete Hoops.
Stitch. lets you create beautiful embroidery patterns, by solving levels and Hoops of various difficulties and sizes. It's easy to learn, but hard to master!
Stitch up all the beautiful landscapes, plants, animals, objects, and more.

SIMPLE RULES, CHALLENGING SOLUTIONS
Stitch. offers an expansive range of playable content and thousands of easy to extremely challenging levels. Pick the pattern, size, and category of the Hoop you prefer and move forward through the levels to create an embroidered masterpiece.

REALISTIC EMBROIDERY ENGINE
Like any other form of art, hand embroidery brings you a peaceful, calming, and inspiring experience.
Developed in-house, the realistic embroidery engine helps you enjoy the feel of playing with the real embroidery thread on your device.

REGULAR HOOPS
Stitch. features over 50 regular Hoops in multiple sizes and categories.
Up to a long embroidery adventure? Pick a beautiful landscape hoop in XXL size.
Looking for something quick and fun to help you unwind? - Stitch up a cute teddy bear or a colorful plant!
Every Hoop you complete can then be shared.

WEEKLY HOOPS
Weekly Hoops are limited edition content that becomes available to play every week.
Discover a new Weekly Hoop every 7 days and get it solved until it is gone!
Weekly Hoops' themes and patterns reflect famous international events and unlock fun, educational facts about each of them.

Did you know World Embroidery Day is celebrated on July 30?

FREE STITCH MODE
After completion, each Hoop can be alternatively played in Free Stitch mode. Pick your favorite pattern and color it just the way you like!
Free Stitch mode becomes available after the tutorial steps completion.

CHALLENGES
Follow and complete all the various and fun challenges to collect points, upgrade in tiers and obtain achievements.

ACCESSIBILITY
Stitch. offers a range of accessibility features that are imported from your iOS/iPadOS settings and can be managed through the main menu of the game:
1. The "Number Outlines" feature creates sharper and more contrasted outlines for the numbers on the grid to help color blindness or the visually impaired.
2. The "Reduce Motion" feature disables all sudden movements and animations.
3. The "Big Numbers" feature increases the size of the numbers of the grid for better visibility.

UNIVERSAL & FAMILY FRIENDLY
Stitch. is a family-friendly game, suitable for players of all ages and genders.
What's New in the Latest Version 1.10
Last updated on Jun 1, 2023
Old Versions
In this month's update:
• Many new Hoops in various categories and sizes. Remember, new patterns also become available each Wednesday!
• Minor performance bug fixes.
Version History
In this month's update:
• Many new Hoops in various categories and sizes. Remember, new patterns also become available each Wednesday!
• Minor performance bug fixes.
This month's update is bringing you:
•Daily Shikaku: Make sure to check in daily for the new Shikaku puzzle! They are hard and have no hints, but also unlock Shikaku Reward Hoops for even more stitching fun!
• 10 new achievements: Can you become the real Tensai by solving 10 Daily Shikaku puzzles in a row?
•New Mythical Creatures category: Stitch amazing creatures from around the world.
•Accessibility improvements: You can now activate colorblind mode during the tutorial and see the increase in the number sizing directly in the menu.
It is fun o'clock!
• Discover the new Funny Stitches Category featuring amusing remakes of the most popular memes.
• Keep an eye on the Coming Soon section and get something new to stitch every Wednesday.
• Metallic thread palettes in Free Stitch
• New Hoops unlocking weekly
• Improved challenges navigation and logic
• Colorblind mode in the Accessibility menu (WCAG 2.1)
• And many more small tweaks!
Challenge bonus system adjusted:
The "Flawless stitching" bonus is removed as it was unrealistic to obtain on larger Hoops.
Content Added:
• "Best Friends" Category with 8 new Hoops. Are you more of a cat or a dog person?
• 3 other amusing patterns
Levels completion logic for the Mystery Masters II is fixed
Content Added:
- New "Sports" category with 8 Hoops
- Other categories expanded with more patterns to stitch
New Features:
- "Hints Off" feature is now available in the "Other settings" menu
- 3 Emerald Tiers were added with 3 new achievements
- The second reset was added for the Mystery Masters mode
- Design and appearance of the Hoops with no progress were made over
Other:
- A range of wording and navigation improvements
- New variations of the music integrated
- Cross devices synchronisation enhanced
- Other minor bugs fixes
The Weekly Hoops timer logic bug has been fixed.
Stay tuned for more amazing puzzles coming very soon:)
- New content added: Look for the "Recently Added" category to discover 7 new Hoops
- "Left Hand" mode added to support a comfortable experience for left-handed players
- Contrast and visibility on darker backgrounds further enhanced
- The "Free Stitch" challenge adjusted for easier completion
- Minor bug fixes
Enjoy and stay tuned for more updates!
- The Big Ben Hoop glitch is fixed. You now can complete the clock tower.
- Restart button is added. Now you can start the level over in a single move.
- The Miniature Collector achievement logic is fixed. You will get it automatically if you have already completed all the XS hoops.
- Enhanced numbers' contrast and visibility on dark backgrounds. Remember, you can always adjust visibility in the accessibility menu.
- Added the patch for the few players experiencing " the freeze " while tapping on the screen between levels.
Let us know if you would like to see anything else added!
New Hoops are coming soon.
stitch. FAQ
Check the following list to see the minimum requirements of stitch..
iPhone
Requires iOS 13.0 or later.
iPad
Requires iPadOS 13.0 or later.
Mac
Requires macOS 11 or later.
Apple TV
Requires tvOS 13.0 or later.
iPod touch
Requires iOS 13.0 or later.
stitch. supports English, Arabic, Dutch, French, German, Italian, Japanese, Korean, Portuguese, Russian, Simplified Chinese, Spanish, Traditional Chinese, Turkish
Related Videos
Latest introduction video of stitch. on iPhone