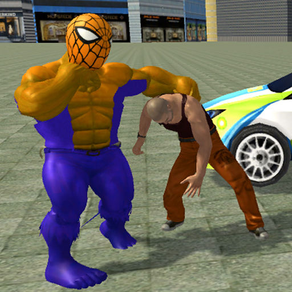 Superhero Game Monster Fatal Fight
Superhero Game Monster Fatal Fight Screenshots
About Superhero Game Monster Fatal Fight
Be an Incredible Monster Hero in City Battle to fight as a legend hero. Think what can you do if the most dangerous criminals and mafia attack your city?
Mankind has always been attracted to the people with extraordinary abilities. The individuals who have superpowers or supernatural gifts are always attractive. You have watched many superhero movies but now you can enjoy new superhero game. Superhero game is made with comic characters in their super action mode. Now you can enjoy a superhero life in your school days by FREE downloading Superhero Game Monster Fatal Fight
Welcome to the Flying Superhero Game Monster Fatal Fight where the superhero saves, helps, protects people from gangster in vice city. There is a lot of crime in city, people wants a true superhero to help them. This superheros game is a new action packed adventurous simulation game. Superhero fights against crime and the people doing injustice. Superhero helps and solves problems of the people in dragon city. With your ultimate super powers, you have to do impossible tasks. Superhero has eye laser power to find problematic places and fight with criminals in the city. Arrest criminals involved in street crime. Superheros league is on mission of helping people.

GamePlay
Superhero game is designed and planned well to make it the best superhero game. Its game play is mission based where you have to achieve your target within given time. You have to fight against evil and deadly villains. Your flying superhero flies above your city and do impossible tasks. Being a superhero you have to rescue people stuck in fire, people got in road accidents and in trouble. This is not as that simple, gangsters are very dangerous. They are making crimes and having a situation of crime battle in the city. Robbers are robbing money, kidnaping people and stealing cars. Get ready for a fetal battle against these evil fighters.

How To Play
You are a flying super spider hero or a bat hero that fight like a superhero robot. Use your laser eye to watch on map of the vice city. Follow the map to get your target. Rescue people and help them to get their places. Super hero drives vehicles and reaches place to place. Enemy soldiers are sniper shooters. Don't worry because superhero has no fear for all that. Superhero reaches to the crime spot and kills criminals. Use kick, punch and fly buttons to take action and attack. Be careful about your enemies because they are always attacking.

Game Features:
Special Super powers like flying, laser eye sight and action fighting
Map to explore the city to help and protect citizen
Driving moto bike and cars in vice town
Special flying and jumping
Fight actions, kick and punch fights
Multiple missions and task
Stunning graphics and sounds
Interesting Animations

Survival of innocent people in vice city is in danger as army is busy in war and police is unable to handle it alone. People are waiting for the league of superheros. People of city are in danger, crime rates are high, and gangsters are active and all kind of criminal activities are on its peak. It's time to kill evil gangster from the crime survival city to show your amazing skills of fighting stunts. Criminals are dons and mafia of underworld so it dangerous and can be fatal war. As a real spider superhero or bat superhero and monster superhero you are not only going to fight against evil gangsters of crime city but also for the survival of this crime city's people. People are worried and depressed. Are you ready for the survival mission with your amazing super powers? Fight bravely and rescue your people of dragon city survival. As if you do well, you will become an ultimate champion and amazing spider city survival hero of the crime city survival. Being a superhero you have to counter each situation bravely to win this fatal contest.
What's New in the Latest Version 1.0
Last updated on Sep 15, 2017
Superhero Game Monster Fatal Fight FAQ
Click
here
to learn how to download Superhero Game Monster Fatal Fight in restricted country or region.
Check the following list to see the minimum requirements of Superhero Game Monster Fatal Fight.
Superhero Game Monster Fatal Fight supports English
Superhero Game Monster Fatal Fight Alternative