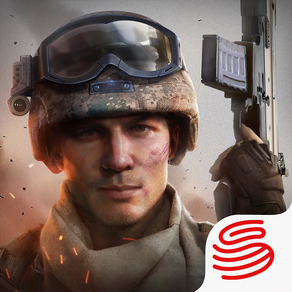 Survivor Royale
50 km² Battle Royale
Survivor Royale Screenshots
About Survivor Royale
Up to 100 players are spread across a large map. They all begin unarmed, compelled to scavenge for the weapons that are randomly spawned through the area. Over the course of 20 minutes, the playable area contracts, forcing survivors into a fight to the death. Last man standing.

[100 contenders for ONE chance of living]
100 players, one fair battlefield, only the best stands till the last.

[HD maps, a huge world to survive in]
Extra large maps, sophisticated geography, diverse buildings -- a fight that's so real!

[Team up, warriors!]
Both solo and cooperative 2- or 4-player modes are available.

[Weapons and Vehicles Almost Too Real]
A wealth of weapons, attachments and vehicles to be scavenged. Are you ready for it?

[contact us]
facebook: https://www.facebook.com/SurvivorRoyale/
e-mail: support@service.netease.com
What's New in the Latest Version 1.0.21
Last updated on Apr 19, 2019
Old Versions
Version History
1,New Season: S5
2,New Fashion:Underground boxer
1. New Season: S4
2. New Fashion:Huntsman,SVD-Telsa
1. New Season: S3
2. New Ship: Ferry
3. New Fashion: Wild West
1. New props: Signal gun
2. New vehicle: Hovercraft
1. New vehicle: School bus.
2. New Fashion: National team suit.
1.New vehicle: police car
2.New Fashion: Jeans Jackets, Sweaters.
1. New HD map: Skull Island.
2. New function: Customize your character's face
3. New season: S2
1. New HD map: Skull Island.
2. New function: Customize your character's face
3. New season: S2
1. New map of PC version: Skull Island.
2. Speed up the player's swimming speed.
1. New mode: National Treasure
2. New costume: Superstar
3. New system: Guild
1. New Props: Spray.
2. Sniper elite mode reopens this week.
3. New costume : crop top (female), angel jacket (male)
4. Added Auto Royale mode leaderboard and related achievements.
1. New mode: AutoRoyale
2. New weapon skin:AK47 - Frost Fang
1. New weapon: VSS
2. New Costume: Gangster Suit
1. Updated the anti-cheat function.
2. Zombie mode opens again.
3. Add more Costumes and skins.
1. New gun: Groza.
2. Add the function of climbing through windows.
3. Add gender switching and appearance changing function.
1、New Firearm & Props:PPSh-41, Military Shield
2、New Fashion:Cowboy
1. New Game Mode: Fireworks Night. The environment is night mode, the scene only drops firework weapons.
2. New Prop - Shield. The Police Shield and Military Shield props provide players with a temporary cover that blocks the enemy's attacks.
3. Five new fashion set added: Flyer, Lover, Runner, Rider, Hide.
4. Added New Valentine's Day Events, complete corresponding tasks to receive a wealth of rewards.
5. Added 17 new achievements, including firearms, game modes, skills and other types.
1. Release more melee weapons. Players can now have a chance to use ukuleles and chainsaws.
2. Players can level up their characters now. Daily Quests are provided for earning level EXP.
3. Players can check their ranking of 50v50 battle in game leaderboard now.
4. Provide new ways for players to post their in-game events and moments to social media.
5. Players can now customize the character icon they use in game
1. Added Europe Server
2. New mode - 50v50
3. Zombie mode continues this week.
4. New Vehicle - a Three-wheeler
5. Added 15 new garments and gun decals.
6. Added message function to Personal Homepage.
1. Enhanced Anti-cheat detection. Add kill cam and report functions.
2. Added sniper-only mode and zombie mode.
3. Players can now select their own country or region.
4. Open recharge function.New Christmas clothing added in Supply Box pool.
5. Updated a rewarded Share Event. Players can receive a mini skirt and a scarf after sharing the event.
Survivor Royale FAQ
Check the following list to see the minimum requirements of Survivor Royale.
Survivor Royale supports English
Survivor Royale Alternative