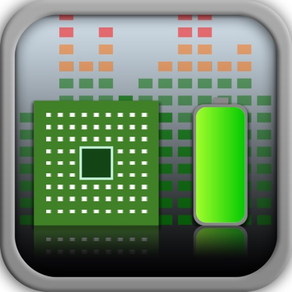 System Information
5.8.4
for iPhone, iPad and more
System Information Screenshots
About System Information
System Information Is The Highest Rated App To View Information About Your Device!

System Information Provides:

~ Disk Information (Total Disk Capacity, Used Disk, and Available Disk)
~ Network Information (IP Address, SSID, BSSID, External IP Address)
~ Cellular Data (Carrier Name, MNC, MCC, Country Code, And If Your Device Allows VOIP)
~ CPU Consumption Data (Used, Idle, and Load)
~ RAM Information (Total Memory, Memory Used, Wired, Active, Inactive, Free, Pageins, Pageouts, Page Size)
~ General Details (Battery, Boot Time, Uptime, Device Name)
~ Rearranging Of The Sections So You Can Prioritize What Information Is Important To You
~ The Ability To Customize The Visual Experience With Themes!

System Information Is Well Designed And Beautiful To Look At. It Is Incredibly Easy To Find And Share Information About Your Device Like No Other Application Of Its Kind.
What's New in the Latest Version 5.8.4
Last updated on Nov 17, 2018
Old Versions
Support for the latest devices
Version History
Support for the latest devices
Updated to the newest technologies as well as support for the iPhone X!
Support for iOS 9 and new iPhones.

Added L2, L1, and L1D cache sizes.

If you like System Information, please leave a review!
- Adds themes!

- Now supports IPv6

- Multiple bug fixes!
Added external IP address.

Added 'news' section.

Full iOS 7 design and compatibility.

Fixes huge memory issues.

Minor bug fixes.
Added 'Page Size' Under RAM Section.

Small Bug Fixes
Added 'Battery Status' section under battery charge percentage.

Small UI changes

Bug fixes
Great New Features:
- Now you can rearrange the sections.

- Now shows the subnet mask under the Network section

- All the processes now show the time when the process was started.

Also I changed wording around, fixed numerous bugs, and changed the colors slightly on the pie charts.

Changed navigation color to a darker gray color.

Changed up the UI slightly.

Further support for IPv6 addresses

Fixed a couple bugs.
iPhone 5 AND iPad Retina display support!

New features:
~ Shows how much CPU is idling, and has a chart for CPU now!
~ Shows BSSID and SSID for current WIFI network
~ Shows all of your cell phone carrier information if applicable

New Splash Screen!

General improvements, and many bug fixes.
Also fixed some of the text formatting issues.

Thanks for downloading and supporting an indie developer!
If you have any concerns or problems please feel free to email me: Pearapps@gmail.com!
Fixed weird spacing issue in network section.

Fixed a bug that caused the application to crash.

Fixed uptime and 'date of boot'.

Made graphs larger on the iPad
Fixes huge bug that displayed a bunch of junk in the network tab.

Also fixes CPU percentage.

Now it gives the frequency of the CPU.
~ Added Battery Level Under General Information

Fixed a couple of bugs

Added amount of physical memory and added the total of used memory

Fixed Misspelling.

Thanks for downloading!

Make sure you leave a review if you like the app!

(Warning: Themes have been removed because they were conflicting with some of the items on cells of the table. If you love the themes please don't update.)

Added support for the cell network IP.

Changed the way the app calculate.

Changed Pie Chart Colors.

Put processes list into its own page.

Now scrolls at lot smoother.

Now has an About screen.

Please make sure to leave a review if you like the app, it really helps! Thanks!


Fixed formatting issues on startup of app.

Small performance gains.

Added new theme - Blue/White alternating.

Changed info dialog.

Thanks for downloading! Please leave a review if you like the app!






Fixed name of app that appears on home-screen.

Sorry for any confusion!
- Added Pie Charts.

- Redesign - Less Cramped/Better UI/Beautiful Graphics.

- Optimized scrolling/updating data vastly.

- Added better values for uptime

- Thanks for downloading! Please leave a review if you like the app!


Icon back to normal.

Reduced build size slightly.

Fixed crash when copying an item.
- Added: Now displays the public IP address.

- Added: 4.0 and 4.1 compatibility.

- Added: New theme: Red on Black!

- Changed: Icon now does not have gloss.

- Fixed: small memory consumption problem.

- Fixed: crash bug that plagued a small percent of users.
System Information FAQ
Check the following list to see the minimum requirements of System Information.
iPhone
Requires iOS 9.0 or later.
iPad
Requires iPadOS 9.0 or later.
iPod touch
Requires iOS 9.0 or later.
System Information supports English
System Information Alternative