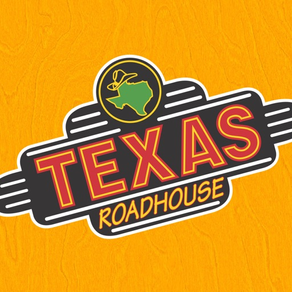 Texas Roadhouse Mobile
Order TO-GO, Join the Waitlist
5.14.0
for iPhone, iPod touch
Texas Roadhouse Mobile Screenshots
About Texas Roadhouse Mobile
You love our Hand-Cut Steaks, Made-From-Scratch Sides, Fall-Off-The-Bone Ribs, and Fresh-Baked Bread! Our mobile app makes getting your Texas Roadhouse favorites faster and easier from finding locations and joining the Waitlist, to browsing our menu and ordering TO-GO.

FEATURES:

Join the Waitlist
- Check the current wait times
- Add your name to the list and shorten your wait at the restaurant
- Text when you arrive, and we'll text back when your table is ready

Order TO-GO
- Quickly create your order and pay in minutes
- Customize menu items
- Pay with your Texas Roadhouse Gift Card!
- Redeem VIP Offers

Save Your Favorites
- Favorite any location for faster ordering and joining the waitlist
- Quickly reorder recent orders and favorite meals

Join the Club!
- Signup for our VIP Club and get offers from your favorite Texas Roadhouse location
- Hear about upcoming events and specials

Additional Features:
Hands Free Menu: access your favorite location's menu while dining with us

Order Gift Cards

Search Locations While on the Road
What's New in the Latest Version 5.14.0
Last updated on Mar 28, 2023
Old Versions
- We made a few bug fixes and performance improvements to make your app experience easier and more awesome!
Version History
- We made a few bug fixes and performance improvements to make your app experience easier and more awesome!
- Updates to provide you an even better experience
- Love the app? Have any suggestions of things you'd like to see? We love feedback, so leave us a message in the app store about your experience!
- Several enhancements and fixes to set us up for a Legendary 2023
- We've added a way to quickly view your store menu
- Additional minor enhancements to Ordering & Waitlist
- Enhancements to the digital waitlist & ordering flow updates. A few minor bug fixes.
- Enhancements to the ordering experience
- App enhancements and general maintenance
- Redesigned Curbside experience for online ordering
- Bug fixes
- Made some enhancements to the ordering process
- Update to show availability of menu items
- Check-in to your Waitlist reservation directly from the app
- Bug fixes and laying the groundwork for upcoming enhancements
Waitlist and ordering enhancements
Made some changes and squashed some bugs to make your Ordering and Waitlist experience even more Legendary.
- Remove yourself from the Waitlist directly in the app
- User experience improvements & Bug fixes
Enhancements to the ordering experience
* Updated nutritional information
- Improved displaying of pickup times throughout the experience
- Special instructions are now also shown on your order Confirmation
- Additional details added to Recent Orders
- Improved guest experience when adding products to your cart
- Waitlist enhancements
- Guests on the Waitlist can now see their confirmation information throughout the experience
- Improved user experience for saving special instructions
- Improved app stability & bug fixes
Texas Roadhouse Mobile FAQ
Texas Roadhouse Mobile is available in regions other than the following restricted countries:
Iraq,Kyrgyzstan,St. Lucia,Botswana,Malawi,Niger,Pakistan,Slovenia,Slovakia,Antigua And Barbuda,Angola,Denmark,Ireland,Mozambique,Netherlands,Uruguay,Moldova,Norway,Cote Divoire,Cameroon,Germany,Dominican Republic,Gabon,Grenada,Solomon Islands,Singapore,Sri Lanka,Macedonia,Belgium,Burkina Faso,Bolivia,Dominica,South Korea,Lao Peoples Democratic Republic,Mauritania,Panama,Venezuela,China,United Kingdom,Georgia,Morocco,Nicaragua,Turkmenistan,Suriname,Chad,Albania,Italy,Cayman Islands,Libya,Nauru,Saudi Arabia,Taiwan,Zimbabwe,Tonga,Argentina,Bulgaria,Brazil,Cyprus,Czech Republic,Malta,Brunei Darussalam,Algeria,Japan,Montserrat,Vietnam,Armenia,Maldives,Swaziland,Bahrain,Ghana,Honduras,Lithuania,Nigeria,Croatia,Jordan,Portugal,Zambia,Austria,Greece,Paraguay,Mali,South Africa,Ecuador,Jamaica,Mongolia,Turks and Caicos,Tajikistan,Turkey,Estonia,Micronesia,Guatemala,Benin,Congo, Democratic Republic,Serbia,Sierra Leone,St. Vincent & The Grenadines,Senegal,Uzbekistan,Belarus,Costa Rica,Gambia,Iceland,Kazakhstan,Latvia,Romania,Sweden,Trinidad and Tobago,Vanuatu,Colombia,Liberia,Qatar,United Arab Emirates,Finland,Guinea-bissau,Hong Kong,Luxembourg,Uganda,Papua New Guinea,Seychelles,Afghanistan,Anguilla,Congo,Israel,Mauritius,Malaysia,El Salvador,Hungary,British Virgin Islands,Belize,Kenya,Cambodia,Montenegro,New Zealand,Rwanda,Australia,Cape Verde,Sao Tome & Principe,Bhutan,Kuwait,Lebanon,Nepal,Philippines,Tanzania,Azerbaijan,Bosnia & Herzegovina,Chile,France,Guyana,Peru,Bermuda,Macao,Palau,Ukraine,Egypt,Indonesia,Poland,Thailand,Tunisia,Kosovo,Bahamas,India,Madagascar,Myanmar,Namibia,Russia,Yemen,Barbados,Switzerland,Spain,Fiji,St. Kitts and Nevis,Oman
Texas Roadhouse Mobile supports English
Check the following list to see the minimum requirements of Texas Roadhouse Mobile.
iPhone
Requires iOS 13.2 or later.
iPod touch
Requires iOS 13.2 or later.
Texas Roadhouse Mobile Alternative