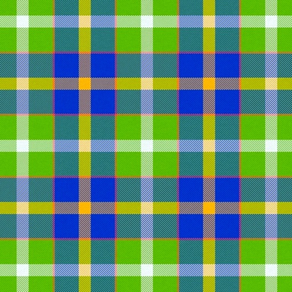 TexCad
The Tiniest Fabric Designer !!
2.0
for iPhone, iPad and more
About TexCad
TexCad is the tiniest app to design imaginative woven fabrics in minutes on your iPhone and iPad. Quickly create a woven fabric design using the ready library of Colours and Weaves. Unlock your design imagination with the powerful Auto-Design feature.

Look before you Loom !!
==================
Quickly create a collection of beautiful woven fabric designs using simple weaves and colors. The app contains a pre-fed library of the commonly used weaves and colors. Also included is a set of default designs that help you get hands on while discovering the power of this app. 

TexCad with its ergonomic and user-friendly interface makes creativity a very enjoyable and addictive experience. The app is designed to be friendly to the designer, merchandiser, weaver and student alike. Knowledge of yarn parameters like counts and blends are not required.

Auto-Design
==========
Play on any given design using the power of Auto-design to create amazing new patterns and color-ways. The Auto feature gives you the option to create random warp and/or weft patterns. With the Auto Color option you can create amazing new color-ways from a given design. 

Users will love this feature and enjoy creating stunning new designs in seconds by the touch of a button !!

Fabric size
========
Fabric images are viewed in the required finished ends per inch( or cm) and picks per inch(or cm). The fabric images are realistic and in near actual size, based on the entered ends/inch (or cm) and picks/inch (or cm). 

Design Communication
==================
Communicate your design ideas to other TexCad users or to fabric and garment manufacturers, merchandisers or traders.

Send and receive designs and their images to and from other TexCad users via email. The design file can be opened from within the email message and saved to your library.  All the design data on a device can be backed up to a desktop using iTunes.

Fabric Effects
===========
Variety of fabrics like yarn dyed stripes and checks with different structure effects can be displayed accurately.

Effects like Melange, Indigo, Silk, Denim, and many Natural Spun effects are closely represented.

Realistic weave effects are displayed in fabrics even when the same yarns are used in the warp and weft.

The 'Spun' slider brings to life the displayed fabric, simulating effects of the yarn's natural unevenness.

Pattern Editor
===========
The Warp and Weft pattern is input using a text format. A pattern like 4A4B would represent 4 threads (ends or picks) of Color A followed by 4 threads of Color B, and so on. 8 colors are available in each the Warp and Weft respectively. A pattern can be a maximum of 1200 Ends and/or 1200 Picks;

Ready Library Of Weaves And Colors
============================
The app contains a weave library of the most used standard weaves. To use a particular weave in your design just scroll to the weave and drag-drop its chip (image) on the fabric area. 

The library contains a total of 80 weaves. The first 40 weaves are pre-fed and can not be edited. The remaining weaves (41-80) can be user-edited and saved to the library. The maximum size of a weave repeat is 40 ends x 40 picks.

The app contains a color library containing 2000 editable colors (1900 pre-fed). To use a certain color in a pattern simply drag it from the color library and drop it at the color position in the warp or weft pattern.

You have the option to 'reset' the colors to the default palette.

Cloth Swatch and Card
=================
View a design swatch in 1200 x 1200 pixels.This can be saved to photos or emailed from within.

View a design cloth-card with the swatch, warp and weft patterns, yarn colors and weave used. This can be saved to photos or emailed from within.

Designing woven fabrics was never this enjoyable and addictive !!
- - - - -
What's New in the Latest Version 2.0
Last updated on Jan 30, 2021
Old Versions
- Minor bug resolved.
- Improvements in Fabric simulation.
Version History
- Minor bug resolved.
- Improvements in Fabric simulation.
New app icon.
Minor bug resolved.
- New App icon.
- Minor improvements in Auto-design.
Improved Auto-design.
Improved user-experience.
Minor bugs resolved.

TexCad FAQ
TexCad is available in regions other than the following restricted countries:
India,Pakistan
Check the following list to see the minimum requirements of TexCad.
iPhone
Requires iOS 13.4 or later.
iPad
Requires iPadOS 13.4 or later.
iPod touch
Requires iOS 13.4 or later.