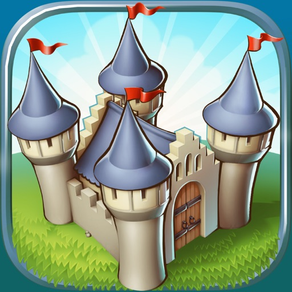 Townsmen
Medieval city-builder
Free
Offers In-App Purchases
1.14.3
for iPhone, iPad and more
About Townsmen
Develop your tiny village to a grand medieval empire with a thriving economy and happy villagers! Find spots for mining ore, harvest the crops of your farms and collect coins as taxes from your folk. Build jousting fields, taverns, marketplaces and beautify your city with impressive statues, magnificent monuments, and lush gardens. But there are also dangers lurking close by. Bandits are in the area, looking to plunder and pillage your peaceful town. Build barracks, guard towers and recruit brave soldiers to protect your citizens from harm. You rule the whole empire from your castle and make sure your inhabitants have fun and stay happy!

FEATURES
- FREE TO PLAY
- City-building gameplay set in medieval times
- Cute inhabitants with their own daily routines
- Complex economy sim and deep production chains
- Dozens of different town and production buildings
- Optional military feature with soldiers and bandits
- Meaningful seasons and weather effects
- Devastating disasters like fire, disease, drought and many more
- Diverse scenarios and challenging tasks
- Unrestricted sandbox gameplay mode
- Game Center support

You can play 'TOWNSMEN' entirely for FREE, though various items are available via in-app purchase. If you don't want to use in-app purchases, please deactivate them in your device settings.
What's New in the Latest Version 1.14.3
Last updated on Aug 23, 2021
Old Versions
Added dialog to disable data tracking at the start of the game
Version History
Added dialog to disable data tracking at the start of the game
Fixed problem that latest iOS devices were using low resolution graphics accidentally
Fixed losing prestige when starting the "Marsh" map
Enjoy 3 new scenarios including a detective story with a new choice mechanic. Raise your religion and morale with the cathedral and beertent, and hunt the all new boars that roam the forests. Three endless mode maps and some bug fixes were also added!
Fixed buildings not completed when using instant build (a Townie needs to finish the construction though)
Fixed possible crash in save games (due to changed build costs)
- Fixed problems with the "new" sawmill (upgrade, repair, extinguish fire, too loud sound)
- Fixed bandits attacking despite of being disabled in new sandbox map
Three new scenarios
Six new sandbox maps
New buildings: Two new townhouses
New look for the sawmill building
New deco objects: dead trees, seasonal fields, new village square, trees for boulevards and many more!
A new quest avatar: The Queen from the neighboring country
Improved iPhoneX support
Switched from Google Analytics to Firebase
Minor fixes
3 new sandbox maps
Fixed some bugs
Visual improvements and bug fixes
74 new decoration objects
3 new scenarios
Improved decorations selection and placement
Better sorting of buildings in the build menu
Many new quest avatars
Many tweaks and bug fixes (e.g. medicus issues, supposedly missing resources, tower ranges...)
Fixed possible crash when loading a save game in "the perfect brew"
Minor fixes and optimizations
Many small fixes and tweaks
Seasons: Spring, summer, autumn and winter with new appearances!
Weather: Rain, overcast, thunderstorms and blizzards in many variants!
New disasters: Lightning, blizzards, large scale bandit attacks and avalanches now endanger your town!
2 new production buildings: Oast house and vineyard!
3 new entertainment buildings: Contest grounds, juggler camp and fairground.
3 new scenarios
3 new sandbox maps
Completely reworked sandbox mode with many new quests!
Many bug fixes and a lot of technical improvements!
New building: Trade guild
Set up automatic trades at the trade guild
3 new scenarios
2 new sandbox maps
Adjusted economy system: Buying and selling temporarily changes the trade prices at the market
Disasters like droughts increase trade prices for resource groups like food resources.
Fixes the firefighter stops working problem, sorry for the delay!
Also fixes a crash regarding mines
Fixed forest not regrowing under certain conditions
Fixed calling merchant by watching a video still deducting prestige
Other tweaks and bug fixes
Raiding bandits can now rob resources, lay fire or demolish buildings in your town!
Choose to play friendly or with bandits on any sandbox map
Build guard towers and barracks to protect your town
Old savegames are still non-military
Completely reworked context menu of buildings (with lots of information)
7 new scenarios: a military tutorial, 3 military scenarios & 3 non military scenarios
Find your villagers with ""Follow my Townie"" mode!
7 new buildings
8 new resources
18 new decorations
15 new achievements
25 new research possibilities for military
Lots of new quests
Fords now allow crossing rivers without bridges
New "destroy resources" option in statistics menu"
3 new endless maps
various bug fixes e.g. the missing merchant!
Improved tutorial
Tweaked the balancing of the economic and happiness system
Further Tweaks and bug fixes

Fixed fire tower and other crashes
- many bug fixes and optimizations including path finding, water supply and general balancing
- improved usability
Townsmen FAQ
Check the following list to see the minimum requirements of Townsmen.
iPhone
Requires iOS 8.0 or later.
iPad
Requires iPadOS 8.0 or later.
iPod touch
Requires iOS 8.0 or later.
Townsmen supports English, French, German, Indonesian, Italian, Japanese, Korean, Portuguese, Russian, Simplified Chinese, Spanish, Traditional Chinese
Townsmen contains in-app purchases. Please check the pricing plan as below:
Medium Prestige Pack
$8.99
Unlimited Fast-forward!
$3.99
Unlimited Double XP!
$3.99
Awesome Prestige Pack
$21.99
Ultimate Prestige Package
$39.99
Insane Prestige Package
$69.99