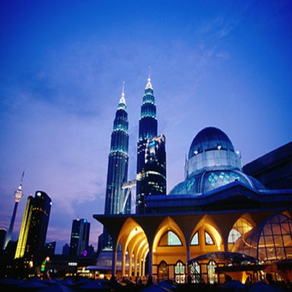 Visit Malaysia
1.0.38
for iPhone, iPad and more
Visit Malaysia Screenshots
About Visit Malaysia
To know Malaysia is to love Malaysia, bustling melting-pot of races and religions where Malays, Indians, Chinese and many other ethnic groups live in peace and harmony. This multiculturalism has made Malaysia a gastronomical paradise and home to hundreds of colourful festivals. As a people, Malaysians are very relaxed, warm and friendly.

Geographically, Malaysia is almost as diverse as its culture. One of Malaysia's key attractions is its extreme contrasts which further add to this theme of 'diversity'. Towering skyscrapers look down upon wooden houses built on stilts while five-star hotels sit just metres away from ancient reefs.

Malaysia will invigorate and surprise you, from its picture-perfect beaches and sumptuous cuisine to adventure activities and eclectic cities. For the perfect holiday full of surprises, the time is now, the place is Malaysia.

This app is designed specifically to assist visitors navigate around interesting sights within Kuala Lumpur, Johor, Melaka, Pahang, Ipoh, Langkawi and Penang. There are 181 sights included in the app with purple pin-drops showing their locations on the map. Once your hotel details are entered, you can easily find what interesting sights are around the hotel you're staying through the map pin-drops.

As this app accesses the internet, an internet connection is required for the app to work.

Features:

Map - The map is mainly centred around Malaysia (Kuala Lumpur, Johor, Melaka, Ipoh, Langkawi, Pahang, Penang). Kuala Lumpur will be the main focus. It uses four different coloured pin-drops. Purple pin-drops shows all 181 sights within Malaysia. Red pin-drops shows the location of hotels you've entered, green pin-drops shows the locations that you wish to find, and the blue pin-drop shows your current location. When you're in Malaysia, the 'Locate' button will pin-point your current location with a blue pin-drop. There is also a 'Find' button that allows you to find an address or place that you've entered and this location is shown with a green pin-drop.

Sights - All 181 sights are listed. When you select a sight, a summary of the sight will be displayed including the address, opening times and entrance fees. You have the option to visit its website, give a rating for the sight or mark it as visited.

Hotels - You can enter the name and address of a hotel or get one from your Contacts. When you press the 'Save' button, the hotel will be shown on the map. This will provide an indication of how far the sights are from your chosen hotel address. More than one hotel addresses may be entered. You can then go back to the Map section to see the locations (shown by red pin-drops) of these hotels. You can also save the hotel details to your contacts.

Weather - This website shows the detailed view of the 5 day forecast on the current weather conditions for Malaysia.

Postcard - You can send a postcard to your loved ones or friends with an attached photo of the sight you're visiting. Select the 'Sight' photo to send, enter the email address, type your email message, press either Send, Cancel, Delete Draft or Save Draft.

Transport - This will take you to the Public Transport portal where you can obtain information on buses, trains, monorail timetables, fares & tickets, journey planner, using public transport, etc.

Places - Shows the nearest location of places like restaurants, supermarket, banks, medical centres, etc. on the map based on your current location. It also shows driving direction or walk direction on the map between your current location and the selected place.

Directions -Obtain directions (by car, bus, walk, or cycle) to where you want to go. It will initially show your current location.

Visitor Information - Obtain information on events, things to see and do, where to stay, trip planner, , etc.

Restaurants - Find information on where to eat in Malaysia. Select Ipoh, Kuala Lumpur, Langkawi, Melaka, Pahang, Penang, Johor.
What's New in the Latest Version 1.0.38
Last updated on Mar 29, 2023
Old Versions
Updated Opening Times and Entrance Fees for all Sights.
Version History
Updated Opening Times and Entrance Fees for all Sights.
Update Opening Times and Entrance Fees for all Sights.
Updated Opening Times and Entrance Fees for all Sights.
Update opening times and entrance fees for Sights.
Updated Help File. Improve functionality of the Sights Listing. Added option to mark the sight as visited or give a rating.
Added 40 new sights. Added grouping by state for the Postcard table display and Sights table display. Show restaurants by state.
Added a new option 'Places'. This shows places of interest on the map (banks, restaurants, supermarket, bus stop, ATM, hotel, medical centre, etc.). It also shows direction (by car or walk) from your current location to the selected place.
Updated 'Help' file to include this new option.
Fix problems with accessing the Contacts file. Website updates. Added 4 new sights for Kuala Lumpur.
Resize web page to fit device screen.
Updated main menu layout. Bug fixes.
Fix problem when sending Postcards. Some website updates.
Visit Malaysia FAQ
Check the following list to see the minimum requirements of Visit Malaysia.
iPhone
Requires iOS 11.0 or later.
iPad
Requires iPadOS 11.0 or later.
iPod touch
Requires iOS 11.0 or later.
Visit Malaysia supports English
Visit Malaysia Alternative