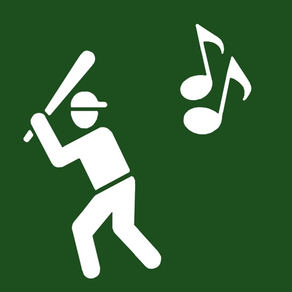 Walkout Song DJ
Orchestrator For Your Team
2.6.24
for iPhone, iPad and more
Walkout Song DJ Screenshots
About Walkout Song DJ
Music makes the ball field come to life but until now being the ballpark DJ wasn't easy.

Walkout Song DJ is here to make it simple to have every field filled with that pump-up music every athlete loves and needs for those big games.

Walkout song DJ makes the difficult task of playing a walkout song for each individual batter as easy as tapping a button. Simply enter the player name and number then select a song from your iTunes library. The precise segment from that walkout song can then be set by selecting a position and playback duration using a simple and precise editing view. Press the play button and 11 seconds later you have one pumped-up batter, and a song that smoothly fades as the batter steps up to the plate. You can also choose between imported, recorded, or computerized text-to-speech announcements for your players before, after, or mixed with their walkout song.

The game doesn't stop between innings so why should the music? Walkout Song DJ has a view dedicated to inning break songs. Just as before, select a song from your iTunes library and set a position and duration. Since inning breaks are usually two minutes long and most songs are over three minutes, Walkout Song DJ can automatically fade the song out before the start of play. That allows the human DJ to take a break or get a hot dog, and not have to worry about the music interrupting the game.

There is also one-touch access to a situational music view. These are the songs that add character to the game, such as your national anthem, Take Me Out to the Ball Game, Jeopardy Theme Song, your team fight song and anything else that fits!

For pre-game music, there is a pre-game view that allows you to select a group of songs from your library and arrange them in a simple playlist to play without interruption and help the athletes get "in the zone" during warm ups.

If you happen to be a dedicated ballpark DJ and have multiple teams to DJ, don't sweat it. Walk-Out Song DJ makes it possible to create and save song pages for multiple teams.

So sit back, relax, and enjoy the game while playing the all-important music by barely lifting a finger.

Please NOTE: The only subscription music source that will work with this app is Apple Music. The app is unable to access files from subscription sources like Spotify, Amazon Prime, Google Music, Tidal, or Napster because those services either have no third party offline playback interface or will not allow use of their interface with a third party commercial application. I have requested commercial approval from several of them and have had no response. The app will also work with standard music files either purchased from iTunes or imported to your device from email attachments or from cloud storage services.
What's New in the Latest Version 2.6.24
Last updated on Sep 5, 2023
Old Versions
- Added an edit mode for teams, groups, and playlists so delete, reorder, rename options are easier to find.
Version History
- Added an edit mode for teams, groups, and playlists so delete, reorder, rename options are easier to find.
- tweak the speaker wake-up logic to reduce the hum and pop before announcement or music start.
- Added an external speaker wakeup option to avoid missing the start of announcements and music for ION and similar speaker models
-correct layout of volume control on older iPad Air models
-sort voices list by language and name
-add shuffle option to situations
-prompt to clear data before import
-add option to customize the text to speech script
- stability and performance improvements
- stability and performance improvements
- fix an additional cause of the 'No Decodable Audio Tracks' error
- stability and performance improvements
- stability and performance improvements
- fixed 'No Decodable Audio Tracks Error' with Apple Music song playback
- Provide UI feedback during config import to avoid the app looking locked up while trying to add Apple Music songs to the device library
- avoid overlap of volume control on ipad display in portrait mode
- Share and import of data now includes your recorded and imported announcements
-remove twitter support link
-update resolution for pregame and walkout tab icons
-added support for share and import of app data via text message
- keep a highlight on the last played song on each page so it is easy to know where you left off when you switch pages and then go back
- automatically add missing Apple Music songs back to the library to avoid some inconvenient error message and user intervention
- correct the text when deleting groups on pages other than the walkout page
- increase the size of the volume control for iPad users
- avoid resetting cue and duration when reselecting the same song as can occur if song is lost from library and restored


- fix import data error with iOS 16
- workaround display bug in iOS 16 that was corrupting the display of the cue and duration time pickers
- Work around new iOS 15 sensitivity to invalid file extensions on imported audio files that was generating errors for imported files that used to play fine on iOS 14 and lower
- fix bug where copied entries from one group to another would disappear after restart of the app
- fix bug where iOS 15 introduced gap between table sections on the walkout song and configuration pages
- fix hang bug viewing the imported files folder after importing a song file with asterisks in the name
- fix problem where Apple Music cloud items would not play and presented not very useful error message
- stop existing playback when attempt is made to play an Apple Music song that had been removed from device
-fix bug where the fade button did not fade when tapped during playback of an audio item which had fade end disabled
-change announcements enabled to true for new installations
- additional workarounds for play delays on Apple Music songs with iOS 14.3,14.4 on older devices.
- fix invisible selector text in data file restore alert
- restore functionality to update existing walkout and inning break durations when changing the default value on the settings page
- correct some audio handling issues with low sample rate, mono mp3 files used commonly for situations
- allow proper drag behavior for both the slider thumb and the range area in the cue selection view
-more work arounds for continuous play on pregame tab broken by iOS 14.4
-correct handling of songs added to the app from playlists that are not in the user library
-allow cloud items to be added and create playlist in Apple Music app to download all before offline sessions
-fixed minor annoying glitch in the fade in to song that showed up with iOS 14.4
Walkout Song DJ FAQ
Walkout Song DJ is available in regions other than the following restricted countries:
Guyana,St. Kitts and Nevis,Kazakhstan,Turkey,Yemen,Barbados,Ecuador,Suriname,Estonia,Libya,Maldives,Mongolia,Sierra Leone,South Africa,Denmark,Egypt,Kuwait,Zambia,Macao,Rwanda,Algeria,Indonesia,Morocco,Madagascar,Bosnia & Herzegovina,Belize,Montenegro,United Arab Emirates,Guinea-bissau,Hungary,Peru,Taiwan,Cameroon,Grenada,Lao Peoples Democratic Republic,Tunisia,Uruguay,Pakistan,Palau,Saudi Arabia,Slovakia,Brunei Darussalam,Gambia,Mauritius,Lebanon,Poland,Paraguay,Swaziland,France,Gabon,Georgia,Turkmenistan,Vietnam,Congo,Cote Divoire,Myanmar,Mauritania,Afghanistan,Armenia,Bahamas,Nauru,Sri Lanka,Liberia,Papua New Guinea,Seychelles,Belgium,Fiji,Chad,Azerbaijan,Congo, Democratic Republic,Chile,Kyrgyzstan,Macedonia,Nigeria,El Salvador,Ukraine,Cyprus,Cayman Islands,Senegal,Jordan,Trinidad and Tobago,Uganda,Bhutan,Iceland,Russia,Cape Verde,Latvia,Mali,Malawi,Albania,Costa Rica,Namibia,Singapore,Cambodia,Luxembourg,Kosovo,Zimbabwe,Antigua And Barbuda,Anguilla,Bahrain,Serbia,Sao Tome & Principe,Tonga,Argentina,Guatemala,Qatar,Bermuda,Spain,China,Malaysia,Vanuatu,Montserrat,Dominica,Ghana,Iraq,Portugal,Turks and Caicos,Honduras,Ireland,Croatia,St. Lucia,Kenya,Malta,Norway,Romania,Solomon Islands,Burkina Faso,Greece,India,Nepal,Oman,Sweden,Bulgaria,Botswana,Lithuania,Benin,Mozambique,Niger,Slovenia,St. Vincent & The Grenadines,Angola,Brazil,Micronesia,Tanzania,Uzbekistan,Belarus,Moldova,Tajikistan,Bolivia,British Virgin Islands
Walkout Song DJ supports English
Check the following list to see the minimum requirements of Walkout Song DJ.
iPhone
Requires iOS 12.0 or later.
iPad
Requires iPadOS 12.0 or later.
iPod touch
Requires iOS 12.0 or later.
Walkout Song DJ Alternative