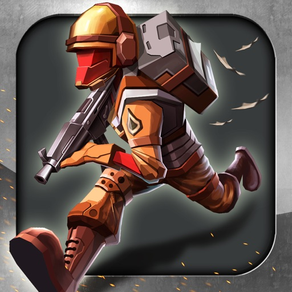 WarCom: Gauntlet Screenshots
About WarCom: Gauntlet
Trinit Interactive 10th Anniversary, PLAY AT WILL!

For 10 years, Triniti Interactive Studios have published 150 games on mobile platform. Out of gratitude for your long support, we decided to bring the most popular games in the past back on the AppStore. What's more, All in-app purchases of these games are now free! In other words, all players can enjoy the full content of the games for free!
Have a good time and enjoy!

See the list below:

Call of Mini™ Zombies
Call of Mini™ Zombies 2
Call of Mini™ DinoHunter
Call of Mini: Sniper
Call of Mini™ Brawler
TinyLegends™ Heroes
TinyLegends™ Monster Crasher
TinyLegends™ Crazy Knight
DevilDark: The Fallen Kingdom
Call of Mini™ Squad
Call of Mini™ Double Shot
Heroes vs Monsters
DinoCap 3 Survivors
WarCom: Gauntlet
iSniper 3D Arctic Warfare
Dungeon Crasher
Call of Mini™ BattleField!
KungFu Warrior
Action Truck
MiniGlider

► ► ► ► ►

they've GOT YOU surrounded! grab your GUN and RUN the GAUNTLET!

► ► ► ► ►

It was supposed to be a simple recon job. In and out. But sometimes even the best scouts get in too deep! Now you've got no choice but to run and gun your way through a gauntlet of pits, traps, and enemies!

► ► ► ► ►

• Endless action
• Tons of tricky obstacles
• Loads of weapons and items
• Pulse-pounding gameplay

► ► ► ► ►

http://twitter.com/TRINITIgames
http://facebook.com/TRINITIgames
What's New in the Latest Version 1.0.9
Last updated on Jan 15, 2020
Old Versions
Version History
Trinit Interactive 10th Anniversary, ALL IAP FREE!

For 10 years, Triniti Interactive Studios have published 150 games on mobile platform. Out of gratitude for your long support, we decided to bring the most popular games in the past back on the AppStore. What's more, All in-app purchases of these games are now free! In other words, all players can enjoy the full content of the games for free!
Have a good time and enjoy!

See the list below:

Call of Mini™ Zombies
Call of Mini™ Zombies 2
Call of Mini™ DinoHunter
Call of Mini: Sniper
Call of Mini™ Brawler
TinyLegends™ Heroes
TinyLegends™ Monster Crasher
TinyLegends™ Crazy Knight
DevilDark: The Fallen Kingdom
Call of Mini™ Squad
Call of Mini™ Double Shot
Heroes vs Monsters
DinoCap 3 Survivors
WarCom: Gauntlet
iSniper 3D Arctic Warfare
Dungeon Crasher
Call of Mini™ BattleField!
KungFu Warrior
Action Truck
MiniGlider
• Perfectly compatible with iOS8.

► ► ► ► ►

http://twitter.com/TRINITIgames
http://facebook.com/TRINITIgames
• Bug Fixes

► ► ► ► ►

http://twitter.com/TRINITIgames
http://facebook.com/TRINITIgames
• UI changes

► ► ► ► ►

http://twitter.com/TRINITIgames
http://facebook.com/TRINITIgames
-Reduced game size below 50MB for over-the-air downloads
-Check out the tBank for free tCrystals.
-New weapon: AK-47
-Added Health Pack that can be collected to restore HP
-Loading image size optimized for iPhone 5
-The opening animation now has sound.
-Players will no longer sometimes automatically shoot mines.
-Game difficulty lowered
-Bug fixes
-Bug fixes.

★★★★★

▶ http://twitter.com/TRINITIgames
▶ http://facebook.com/TRINITIgames
WarCom: Gauntlet FAQ
Check the following list to see the minimum requirements of WarCom: Gauntlet.
WarCom: Gauntlet supports English
WarCom: Gauntlet Alternative