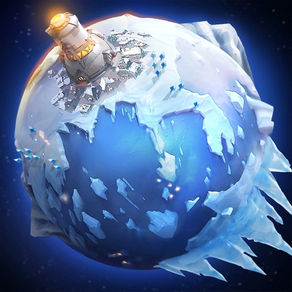 Whiteout Survival
Build & Survive in Winter
Free
Offers In-App Purchases
1.8.5
for iPhone, iPad and more
Whiteout Survival Screenshots
About Whiteout Survival
Whiteout Survival is a survival strategy game to center on a glacial apocalypse theme. Fascinating mechanics and intricate details await you to explore!

The catastrophic decline in global temperatures has wreaked havoc on human society. Those who have made it out of their crumbling homes are now faced with a new set of challenges: vicious blizzards, ferocious beasts, and opportunistic bandits looking to prey on their despair.

As the head of the last city in these icy wastes, you are the only hope for humanity's continued existence. Can you successfully guide the survivors through the ordeal of adapting to the hostile environment and re-establishing civilization? The time for you to rise to the occasion is now!

[Special Features]

UPGRADE THE FURNACE

The furnace is your sole defense against the brutal cold. Keep amassing resources to upgrade the furnace, and always be prepared for the long winter nights and sudden blizzards! This is the only way for you to keep the survivors alive!

ASSIGN JOBS

Assign your survivors to specialized roles such as hunter, cook, woodcutter, and many more. Keep an eye on their health and happiness and treat them promptly in case they get ill!

ESTABLISH EDICTS

Edicts are crucial tools for rebuilding civilization and expanding your territory!

[Strategic Gameplay]

SEIZE THE RESOURCES

There are still countless usable resources scattered across the ice field, but you are not alone in this knowledge. The vicious beasts and other capable chiefs are eyeing them as well... War is inevitable, and you must do whatever it takes to overcome the obstacles and make the resources yours!

CONQUER THE ICE FIELD

Fight for the title of the Strongest with millions of other gamers from around the world. Stake your claim to the throne and establish your dominion over the frozen wastes in this test of your strategic and intellectual prowess!

BUILD AN ALLIANCE

Find strength in numbers! Create or join an alliance and dominate the battlefield with allies at your side!

RECRUIT HEROES

Recruit heroes of different talents and abilities for a better fighting chance against the dreadful frost!

COMPETE WITH OTHER CHIEFS

Make the most of your heroes' skills and battle it out with other chiefs to win rare items and infinite glory! Take your city to the top of the rankings and prove your mettle to the globe!

DEVELOP TECHNOLOGY

The glacial catastrophe has wiped out all forms of technology. Start again from scratch and rebuild a system of technology! Whoever controls the most advanced technologies rules the world!

Whiteout Survival is a free-to-play strategy mobile game. You may also choose to purchase in-game items with real money to speed up your game progress, but this is never necessary for you to enjoy this game!

Enjoying Whiteout Survival? Check out our Facebook page at the link below to find out more about the game!

https://www.facebook.com/Whiteout-Survival-101709235817625
What's New in the Latest Version 1.8.5
Last updated on May 29, 2023
Old Versions
[New Content]
1. New Event: State of Power — The battle horn sounds loud and clear, fight to be the State of Power, for glory and might!
2. New Event: King of Icefield — Fight to be on the top of the leaderboard with chiefs from other states!
3. New Building: War Academy — New Tech Research building, unlock your journey to the Fire Crystal Age!
4. New Feature: Fire Crystal Tech — New Techs to be research, brings you more possibilities in battles!
5. New Feature: XI Troops — Research Fire Crystal Techs to unlock stronger troops!
6. New Feature: Auto Hunting (Purchase Ultra Value Monthly Card to unlock)
7. New Feature: Chief Power Rating
8. New Feature: Alliance Resource Exchange
9. Gen 4 Heroes: Ahmose, Lynn, Reina
10. New Event: Vision of Dawn
11. New Event: Tundra Trading Station: Exchange other items with excess Hero Shards and Widgets
12. New Event: Children's Day event
13. New Event: Hero's Mission
*Event and Heroes will be made available to servers meeting the requirements, please stay tuned

[Optimization and Adjustments]
1. Optimized tutorials
2. Optimized defense lineup display. Now displays Hero skill level and gear info
3. Optimized Alliance log. Now displays resource node attack history and garrison log
4. Optimized Beast Hunting. Now able to set opening time in advance: Initiating Beast Hunting now takes a separate queue and does not occupy the regular queue
5. Optimized resource collection in Alliance Mobilization. Resources are now able to be interchanged at different ratio
6. Optimized Replace Alliance Leader feature, R4 members can replace the Alliance leader with 3 days of their absence
7. Adjust Greg's exclusive gear skill: now silences and damages the target
8. Advanced Teleporter now available in VIP Shop
9. Optimized the display of some screens
10. Fixed multiple bugs
11. Higher leveled bounty missions are added to Lighthouse
12. Adjusted some side missions
13. Optimized wilderness map display
Version History
[New Content]
1. New Event: State of Power — The battle horn sounds loud and clear, fight to be the State of Power, for glory and might!
2. New Event: King of Icefield — Fight to be on the top of the leaderboard with chiefs from other states!
3. New Building: War Academy — New Tech Research building, unlock your journey to the Fire Crystal Age!
4. New Feature: Fire Crystal Tech — New Techs to be research, brings you more possibilities in battles!
5. New Feature: XI Troops — Research Fire Crystal Techs to unlock stronger troops!
6. New Feature: Auto Hunting (Purchase Ultra Value Monthly Card to unlock)
7. New Feature: Chief Power Rating
8. New Feature: Alliance Resource Exchange
9. Gen 4 Heroes: Ahmose, Lynn, Reina
10. New Event: Vision of Dawn
11. New Event: Tundra Trading Station: Exchange other items with excess Hero Shards and Widgets
12. New Event: Children's Day event
13. New Event: Hero's Mission
*Event and Heroes will be made available to servers meeting the requirements, please stay tuned

[Optimization and Adjustments]
1. Optimized tutorials
2. Optimized defense lineup display. Now displays Hero skill level and gear info
3. Optimized Alliance log. Now displays resource node attack history and garrison log
4. Optimized Beast Hunting. Now able to set opening time in advance: Initiating Beast Hunting now takes a separate queue and does not occupy the regular queue
5. Optimized resource collection in Alliance Mobilization. Resources are now able to be interchanged at different ratio
6. Optimized Replace Alliance Leader feature, R4 members can replace the Alliance leader with 3 days of their absence
7. Adjust Greg's exclusive gear skill: now silences and damages the target
8. Advanced Teleporter now available in VIP Shop
9. Optimized the display of some screens
10. Fixed multiple bugs
11. Higher leveled bounty missions are added to Lighthouse
12. Adjusted some side missions
13. Optimized wilderness map display
[New Content]
1. New age: Fire Crystal Version. Fire Crystals will be the key to conquering the land of ice! The new Fire Crystal events will offer you an enjoyable gaming experience on the land of ice. Awesome Fire Crystal Buildings and powerful Fire Crystal Troops are waiting for you to unlock!
2. New event: Mia's Fortune Hut. Flip cards for good luck and great rewards!
3. New event: Easter event. Complete missions, get a good ranking, and claim great rewards! There are also Easter-exclusive Castle Skin, Marching Skin, and other items waiting for you! (Event time and rules are subject to the game)
4. New language: Arabic, Russian
5. New content: Heroes' background story

[Optimizations and Adjustments]
1. Optimized Foundry registration time
2. Optimized Castle Battle start time
3. Optimized the point acquisition balance for Hall of Chiefs
4. Optimized Chief Stamina page and added info about Stamina restoration
5. Optimized the displayed content of battle report mails.
6. Optimized the Barricade burning mechanism
7. Optimized the Minister of the Interior's function in Castle Battle
8. Optimized the cooldown of official appointment in Castle Battle
9. Optimized hero skill descriptions
10. Optimized and adjusted some interface display
11. Fixed multiple bugs
[New Content]
1. New Gen 3 Heroes: Logan (Infantry), Mia (Lancer), Greg (Marksman)

[Optimization]
1. Fixed issues with Thai notifications
2. Optimized attack interval of Crazy Joe
3. Optimized the display of some interfaces
4. Fixed multiple known bugs
[New Content]
1. New Gen 3 Heroes: Logan (Infantry), Mia (Lancer), Greg (Marksman)

[Optimization]
1. Fixed issues with Thai notifications
2. Optimized attack interval of Crazy Joe
3. Optimized the display of some interfaces
4. Fixed multiple known bugs
[New Content]
1. New Language Option: Japanese and Korean
2. New Event: Foundry Battle
3. New Event: Mercenary Prestige
4. New Feature: Custom Avatar
5. New Feature: English Voice-over for tutorials and Heroes!
6. New Feature: Account switching at Login Screen
7. New Feature: Cross-server leaderboard
8. New Skins: Valentine's Day Event

[Optimization]
1. Optimized Troop Formations
2. Optimized Alliance name character limit
3. Optimized Alliance Chat, Added option to hide Rally notifications
4. Optimized Troop display
5. Optimized the display of multiple features
6. Fixed multiple known bugs
[New Content]
1. Alliance Championship was added
2. Arena of Glory was added
3. Lighthouse-Bounty Event was added

[Optimization]
1. Art style and UI adjustments
2. Optimization and bug fixes
Whiteout Survival FAQ
Whiteout Survival is available in regions other than the following restricted countries:
China,Vietnam,Afghanistan,Morocco,Russia
Whiteout Survival supports English, Arabic, French, German, Indonesian, Japanese, Korean, Russian, Simplified Chinese, Spanish, Thai, Traditional Chinese, Turkish
Whiteout Survival contains in-app purchases. Please check the pricing plan as below:
Check the following list to see the minimum requirements of Whiteout Survival.
iPhone
Requires iOS 10.0 or later.
iPad
Requires iPadOS 10.0 or later.
iPod touch
Requires iOS 10.0 or later.
Whiteout Survival Alternative