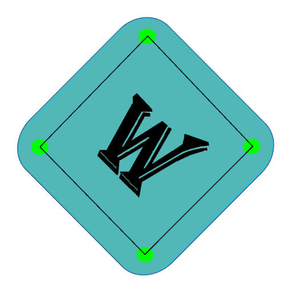 About Word Games!
Welcome to Word Games!, a new word game that tests your skill of unscrambling letters to match a predefined word.

Designed with iOS 8 in mind!

The game is simple: There are ten letters at the top of the screen. Within these ten letters, a word is scrambled.

Sounds Easy??
Okay, EASY mode will make it seem that way. On easy, a three character word is scrambled at the top and the correct letter placement is show directly below it. Your job is to move the rotating scrambling tiles to their correct places.

Medium mode will come after you get a few easy words right or by changing a setting. With medium mode, your word moves up to 4 characters in length. How is this harder? At this point, you seem to be getting the hang of the game, so we have removed a random amount of letters. Note that all or even no characters may be shown for each word. Find the word that needs to be unscrambled before time runs out!

Ready for a bigger challenge? Start the classic game on hard to jump into a five letter word that needs to be unscrambled. Remember, you are only looking for a single word! Even though some others make sense, there is only one word that is correct. On hard, all characters of the word are hidden!


As you play, you will notice that more distractions appear on the screen. The balls that move back and forth don't seem like much until you start watching them instead of the letter you are looking for. Ignore those!

For this version, we have included 5 game modes!

Classic -
Play the classic style game! In this mode, the game uses your chosen difficulty to start the length of your words. Unscramble as many as you can before time runs out! With each word completed, your chance of gaining powerups increases as well as your time!

Casual -
Feeling relaxed? This mode might be for you. Powerups are disabled in this mode and you are given 120 seconds to play as long as you can, casually. Everyone starts on easy and works their way to the top. Being quick is not part of the game! Each word here is only worth one point regardless of level!

Challenge -
Ready for a real challenge? In this game, each word can be a different length. Powerups are enabled, however, really limited. No letter hints given. Each correct word is word is worth 7 points. How well will you do?

Speed -
Ready? Here, you are given 15 seconds to try to get as many words as possible. Your selected level is taken into consideration and all powerups are enabled. No time rewards given!


Spelling Words -
Choose a word list by grade level in this new mode! Each word list is tailored to the corresponding grade to help young students better prepare for the next step in education!

Lengthy - (Coming Soon)
Ready for a mode that really puts your skills to the test? You are given 45 seconds in this mode to unscramble words that are at least 6 letters in length!
This is a landscape version of the game you already enjoy and has a familiar gameplay.
Seconds are added based on completion of a word!


Find Bonus Mode???
Look For bonus mode on the "Game Style" Menu! Where is it? To unlock this mode, tap the modes in the following order: Classic, speed, challenge, casual, classic. You should now see a new mode option at the top of the screen! Tap the arrow to play!



Like us at Facebook.com/JTizzApps to find out more tips! Or, visit us at JTizz.com to provide feedback or enhancement requests!






*Please note that this app is optimized for use on the iPhone 5 and newer. The app is compatible with the 4S, however, not all screens may appear correctly. Customized support will be added based on need and requests from users. We appreciate your support! IAP not compatible on iphone 4S or below.
What's New in the Latest Version 1.1.1
Last updated on Nov 6, 2014
Old Versions
• Critical Bug Fixes • Added Screen shots for larger devices
Version History
• Critical Bug Fixes • Added Screen shots for larger devices
Word Games! FAQ
Check the following list to see the minimum requirements of Word Games!.
Word Games! supports English