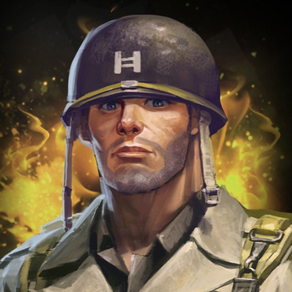 WorldWar1945
Allied victory
Free
Offers In-App Purchases
4.3.0
for iPhone, iPad and more
About WorldWar1945
The largest war in history has begun.
As a Commander immersed in this history, construct bases, train soldiers, and make an impact on the battlefield.

You must come up with remarkable strategies and rewrite history.
World War 1945 Front Line is awaiting your orders.

■Holistic Military■
World War 1945 is a real-time strategy game set in World War II.
Construct bases, train soldiers, and create various strategies in the name of victory.

■Authentic, Historical Research■
Experience the war's major battles including the ones at Normandy, Stalingrad, and others.
Become a Commander in campaign mode, and dominate the battles.

■Perfect Reproductions■
Everything from the Sherman and the Tiger to the Bismarck and the Enterprise!
Live out your military fantasy and head to the battlefield with honest, historical representations of tanks, battleships, and fightercraft.

■More In-depth Military Tactics■
Implement different plans of attack with the support of aircraft carrier bombardment and air raids. The scale of battle grows with the diverse skills at your disposal. Upgrade your bases and troops to acquire various skills and gain an advantage on the battlefield.

■High Quality Graphics■
From top-notch sound to rising dust on the battlefield,
we offer you life-like battles with the realism presented by our quarter view, high quality graphics.

■Real-time PVP Battles■
Countless players will attack your base.
Fight off these opponents by constructing defense towers, and placing your troops strategically to ensure victory.

Ground warfare! Aerial warfare! Naval warfare! Experience it all in World War 1945 Front Line! Enter this frantic war on mobile now!

Taiwan(臺灣) - https://www.facebook.com/WorldWar1945TW/
Philippines(Pilipinas) - https://www.facebook.com/WorldWar1945EN/
Indonesia(Indonesia) - https://www.facebook.com/WorldWar1945ID/
Thailand(ประเทศไทย) - https://www.facebook.com/WorldWar1945TH/
Vietnam(Việt Nam) - https://www.facebook.com/WorldWar1945VT/
Korea(한국) - https://www.facebook.com/worldwar1945globalkr/
What's New in the Latest Version 4.3.0
Last updated on Oct 7, 2022
Old Versions
Version History
UI error correction and improvement
Attack type command center error correction
Replay error correction
Fixed heavy machine gun bunker sound error
Resolves the problem of not running the game on iOS OS 9.0
Equipment sales function added
Building equipment mounting function added
Correction of attack type command center error
Shock bullet skill error correction
Improved network connection logic at the end of battle
Improved status notation
Sturmtiger, SMK, Churchill tank stats changed
Improved data loading delay
-Fixed a problem that sometimes the building upgrade icon did not disappear
-Implemented chat reminder function
-Add ad view
-Fixed a problem where the completion mark did not appear after clearing the last chapter in Story Mode
-Changed the waiting time for repurchase when purchasing a shield item shop
-Fixed an issue where titanium was not consumed when building/upgrading ships
-6 new tankss added
-Friend profile error correction
-Added ability to visit friends and other players
iphone x camera area handling
Fixed village map error
- Fixed an issue where there was no replay data when using airborne units
- Changed fleet energy to total ship energy
- Fixed some errors in sentry tower level up
- Fixed network error after battle
-When using mine detection skill, the unit will change to attack mines within range.
-In PVP battle, if you select the enemy's defense tower when searching for the enemy base, you can see the range.
-When placing ships in your fleet, you can place them freely regardless of fleet energy.
-The unit can be equipped with equipment.
-The equipment that can be attached to the unit can be upgraded, and two of the same equipment at the highest level can be combined into items of the next class.
-When a league is restarted, the number of medals it possesses will be reset according to the league group.
-Fixed update error related to friend request
- 21: 9, 4: 3 aspect ratio optimization
- Corrected the attack of the German army bunker attack
- Fixed network buffer bug
- Bug fix for hit login, relative search
- Fixed the problem that when touching enemy defensive unit in battle, it does not touch well.
- Touch the enemy units and buildings to fix errors that occur during attack
- Replay bug fix
- Fixing the problem when stopping game while watching opponents in PVP mode
- Webview update
- fixed the bug of double uploading of text when chatting
- fixed the bug of notice board not being shown
- improved the loading process of challenge achievement, mail list, receiving gift, and watching replay
- Fixed a problem where the effects of shells, etc. are looking down the tree.
- Bug fixed which makes the game shut-off when you assign paratroopers to the battle
- Bug fixed which shows U.S flags on German troops assignment
- Optimization of function when you are on base and battle
- Minimized of overheating of device when playing game
- Bug fixed with the misplacement of some UI text
- Bug fixed that you cannot progress on the Battle of Hürtgen Forest
- Bug fixed on achieving medal after battle for some high league player
- Bug fixed of final resources looter achievement
- Bug fixed which made you not possible to chat when you push the text bar of chat window
- Bug fixed on player code copy button function of option tab
- Problem solved with delivering push notification
- Minimizing the data loading when starting the game
- Bug fixed to be shut-off from the game when pushing 'Get Reward' button repetitively with high speed
- Bug Fixed: showing USA flag when German army assigned.
Ad-hoc button for tutorial
WorldWar1945 FAQ
Check the following list to see the minimum requirements of WorldWar1945.
iPhone
Requires iOS 11.0 or later.
iPad
Requires iPadOS 11.0 or later.
iPod touch
Requires iOS 11.0 or later.
WorldWar1945 supports English
WorldWar1945 contains in-app purchases. Please check the pricing plan as below:
Buy Gem 14000 special price
$74.99
Buy Gem 6500 special price
$31.99
Buy Gem 2500 special price
$13.99
Buy Gem 1200 special price
$6.99