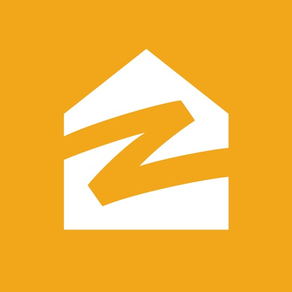 Zillow 3D Home
Virtual tours for real estate
8.12
for iPhone, iPad and more
Zillow 3D Home Screenshots
About Zillow 3D Home
Looking for a way to make your listings stand out? Zillow Interactive Floor Plans and 3D Home® Tours are a free, easy and effective way to help you boost your listings and win more customers.

In fact, listings with a Zillow Interactive Floor Plan or 3D Home Tour got twice as many views and sold, on average, 10% faster than listings without.

- Free and easy to use: Unlike some other virtual tour options, the app is free, comes with the option to create a floor plan, easy for anyone to use and a great way to let people tour and experience a home virtually.
- Stand out: Listings with an Interactive Floor Plan or 3D Home Tour get specialized placement on Zillow and are supported by dedicated emails to prospective buyers.
- Reach more buyers & renters: Your Zillow Interactive Floor Plan or 3D Home Tour is automatically posted to your listing on Zillow, Trulia, and Redfin. You can also share them anywhere, including your website, the MLS and social media.

Use your iPhone® camera (iPhone 7 or higher required) or connect a supported 360° camera from Insta360 (X2, X3, and One RS 1-inch 360 edition) or Ricoh Theta (Z1, X, SC2, V) to capture panoramas, then let the app automatically build your interactive floor plan and virtual tour.
What's New in the Latest Version 8.12
Last updated on Sep 6, 2023
Old Versions
Version History
Bug fixes and improvements.
Bug fixes and improvements

Bug fixes and performance improvements
Bug fixes and general improvements
Bug fixes and general improvements
HDR for Insta360 captures is now available! We've also done a bunch of work fixing bugs and display items to improve your tour creation experience.
Two quick fixes hot off the presses.  

First we improved the quality of Insta360 photos, we still have even more we'd like to do but you should see a great improvement already. 

Second we fixed our "Keep images on Ricoh" setting, so photos should now actually remain on the camera or auto-delete as expected.
We are excited to announce that you can now use certain models of Insta360 cameras with the Zillow 3D Home app! We currently support Insta360 X2, X3, and One RS 1-inch 360 edition cameras. You now have yet another way to make your listings stand out with stunning 3D Home Tours and Interactive Floor Plans!
Bug fixes and improvements.

We've got some updates to our fonts system so reading should be more consistent (yay!)

We added some tooling to help us solve some harder to diagnose issue when you contract support. We love when you reach out and want to make sure we have all the info we can to best fix and prevent problems in the future.

When navigating a completing do things dismiss or reload on you? Fear not we fixed that!

When connecting your 360 camera do we prompt you to update your firmware? Sometimes thats a good thing! But there were times when you were on the latest and we still annoying ask you to upgrade. Hopefully this is not longer an issue!
Happy new year! Starting this year with some bug fixes and behind the scenes improvements!
Holiday brain got the best of us - we shipped a bug that was showing off a fun new feature before it was ready. You'll no longer see it with this release, but don't worry, we're hard at work to bring it to you as soon as possible!
Bug fixes and performance… just kidding, well yes we fixed some annoying issues with some controls and other buttons. We also have new example tours shot with all our supported cameras! We added a lot of behind the scenes work to improve uploads. We have a few more features in the oven that we hope we can turn on and announce in a future update.

We fixed a couple more iOS 16 UI issues. One while editing a panorama's location and the other while adding an address to a tour. We have more existing updates coming soon but since these UI glitches effected your ability to create tours and floor plans we wanted to push these out as soon as possible.

We're fixing some UI glitches that may occur in iOS 16. We're also dropping support for iOS 14. This helps to streamline our codebase and deliver a more stable feature rich app in the future.
Do you struggle to dismiss those "pro tip" tool tips? Doesn't feel very "pro", We're putting the pro back in pro tips. You can dismiss with confidence again! While we were in there we laid the groundwork for some more improvements coming soon to a 3D home app near you
With 7.0 we're launching floor plan support nationwide! All users can now create floor plans along with their 3D home captures. Follow the in-app guidance to learn more!
In this release, we've included a few bug fixes and to help you craft the best 3D tour experience possible we're adding in extra tips and suggestions to assist in the creation process.
Lots of little tweaks and adjustments this time around. A few highlights:

* We improved our support system behind the scenes to help us better help you, should you need it.
* We tightened up some of our plumbing to improve the stability and efficiency of the capture process.
* We fixed some unsightly layout issues that occurred under certain conditions
Tours are now more beautiful than ever! We now automatically enhance images to make them clearer and more balanced while you create your tour. That and some other tweaks and fixes.
Tiny a quick change to update help text to include the new Theta X camera.
Zillow 3D Home FAQ
Check the following list to see the minimum requirements of Zillow 3D Home.
iPhone
Requires iOS 15.0 or later.
iPad
Requires iPadOS 15.0 or later.
iPod touch
Requires iOS 15.0 or later.
Zillow 3D Home supports English