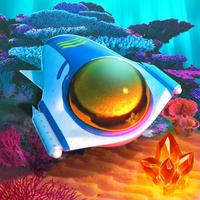 Aquanautica Survival in Sea
Not Available
Removed
from the App Store
Aquanautica Survival in Sea Description
Start the engine of your submarine Seamoth and get ready to explore the ocean. Become a professional diver in our new survival simulator, explore mysterious areas of Aquanautica, and avoid meeting hostile marine creatures of ocean of aquanautica, which would try to capture you or at least damage your equipment of a diver. Enjoy marine scenery of dark ocean of aquanauticafrom your submarine Seamoth or in the depth of the ocean where are going to be you, the lonely diver and infinite dark waters of aquanautica.

As a diver, first of all, you have to be careful in waters of Aquanotica, always track your oxygen level as it drops every second. You are likely to find oxygen tanks on the bottom of ocean of aquanauticaas well as upgrades for your gear of diver or drowned artifacts. You may also refill your oxygen supplies or fix up your equipment of diver in your submarine Seamoth. Hostile creatures of waters of Aquanautica and water pressure on depth are damaging your gear, so track durability of your equipment to stay alive in this survival game.

Aquanautica Survival in Sea is a free to play survival simulator of a diver. Get in the Seamoth and dive into dark depth of ocean of aquanautica. Discover marine places no one have ever seen, find drowned ancient artifacts and creatures, which have never been seen by human. Feel yourself a professional diver in our new survival simulator.