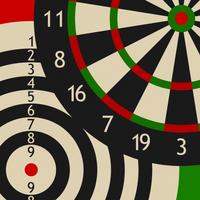 [AR] Darts
$1.99
Screenshots for iPhone
More Screenshots for iPad
[AR] Darts Description
Playing darts requires you a board and some darts, what you usually don't carry with you. With «[AR] Darts» this belongs to the past. Play darts whenever you want.

With «[AR] Darts», you get the first augmented reality darts app, that really gives you the feeling of playing darts, combined with a completely new gaming experience. Play darts with proper 3D movements. Use your device like a dart needle.

Choose between a red or a green dart and play a 301 game or best out of 25. All graphic 3D elements are of the highest quality.

Use the settings menu. Here you find useful configuration options such as the sensitivity of the needle, or the direction of light. In addition, you can switch from a London-Clock to a Target-Board and vice-versa.

As always, this game will be without in-app purchases or annoying ads to help you get a nice product.

We wish you a lot of fun with this AR title.