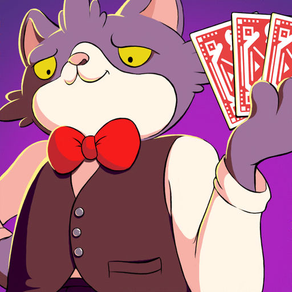 لقطات الشاشة لـ Cat Stacks Fever
About Cat Stacks Fever
Card matching games like Speed and Solitaire meet endless casual action in this thrilling pixel art card game. Draw cat cards from the deck and match them with cards in 1 of 4 stacks that are the opposite color and 1 higher than the drawn card. It sounds simple, but there's a razor thin time limit and a deck full of bombs, shields, and other special cards that can either aid in your pursuit of a high score, or complicate it in an instant.

Cat Stacks Fever: endless speed card matching game

STACK
Match and stack cat cards quickly like in the classic speed card game, but Cat Stacks Fever is an endless solitaire card game, so your only opponent is you and your high score. How long can you stack? Most rounds are over in less than 2 minutes, so you can pop in for some cat stacking and get back to what you were doing (or not. If you want to play free card games all day, we support you, with plenty of cat cards and decks to unlock.)

COLLECT
Finish stacks to collect cute cards from 10+ cat themed decks, like pizza cat cards, alien cat cards, big cat cards, Halloween cat cards, heavy metal cat cards, ballerina cat cards, and more. Stack and match cards with endless speed to earn enough points to unlock 8 special cards and the super challenging Expert Mode.

ZEN
Match cards in Zen Mode to turn off the time and stack at your own speed. Speed doesn't matter in Zen Mode, and you can finish stacks and earn points for matching cards just like in Normal or Expert Mode.

CHALLENGE
With quick score chasing rounds you'll never want to stop stacking and matching to get to the top of the global leader boards. Train your memory matching with the Blind and Shuffle cards, burst your matching speed with the Seer card, and train your agility with the Flip Screen card. If there were ever a speed color matching and number matching competition, you would win.

Whether cats in your part of the world say meow meow, miaow miaow, or nyan nyan, we're pawsitive you'll love Cat Stacks Fever.
تحديث لأحدث إصدار 1.1.4
Last updated on 11/11/2018
الإصدارات القديمة
Cat Stacks Fever FAQ
تحقق من القائمة التالية لمعرفة الحد الأدنى من المتطلبات Cat Stacks Fever.
Cat Stacks Fever هي مدعومة على اللغات English
بدائل لـ Cat Stacks Fever