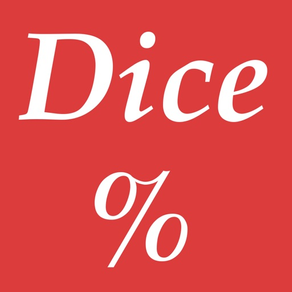 Dice Probability
1.0
for iPhone, iPad and more
لقطات الشاشة لـ Dice Probability
About Dice Probability
Quickly calculate six-sided dice probabilities.

For a given sum and selected number of dice, the following probabilities are displayed: equality, greater than, less than, greater than or equal, less than or equal.

For combinations, the probability of a specific dice combination (ex: 3 ones, 2 fours) is displayed along with the probability for the same combination with any dice (ex: any full house).

Lastly, you can calculate probabilities for getting "at least" some number of dice. For example, the probability of getting at least two sixes using five dice.

The iPad version displays a bar graph of the relative probabilities.

No ads.
تحديث لأحدث إصدار 1.0
Last updated on 14/09/2014
Dice Probability FAQ
تحقق من القائمة التالية لمعرفة الحد الأدنى من المتطلبات Dice Probability.
iPhone
Requiere iOS 7.1 o posterior.
iPad
Requiere iPadOS 7.1 o posterior.
iPod touch
Requiere iOS 7.1 o posterior.
Dice Probability هي مدعومة على اللغات Inglés
بدائل لـ Dice Probability