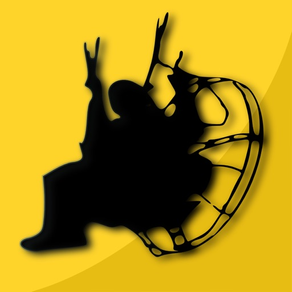 PPGpS
0.9.4
for iPhone, iPad and more
About PPGpS
Welcome to PPGpS, a Flight Computer for Paramotor, Paraglider, Glider and Ultra Light plane Pilots

*FEATURES OVERVIEW:
-Real time flight information
-Wind direction and speed estimation
-Takeoff and Landing phases auto-detection
-Return home information (display estimated travel time and bearing)
-Fuel calculation and warning
-Emergency geo-localized SMS
-Localization with GPS
-QHN, QFE Altimeter setting
-Google Maps and OpenStreetMap map providers
-Rotating Map
-Log flights in KML (for Google Earth)
-Waypoint management
-Especially developed for Paramotor
-Embedded User Manual and Tip of the day feature.
-Variometer

*COMING SOON
-FlyNet2 and Flight Bandit support
-Barometric sensor support to improve altitude accuracy
-Real time flight tracking on www.ppgps.info
-Online and offline maps
-Offline maps creator

*MAPS:
Online :
PPGpS can display Google or OpenStreetMap maps in connected mode.

*INSTRUMENTS:
PPGpS provides the altitude, vario, bearing, magnetic compass, acceleration and ground speed.
With just one click on instruments you switch easily between different data modes : instantaneous, average and maximum values.
Altimeter can be set to actual altitude or elevation (QHN, QFE) just by longpressing on the altimeter.

*WAYPOINTS:
Create waypoints by tapping on the map or by entering their GPS coordinates.
Select a waypoint with one click on the waypoint instrument (WPT).
Rename or remove a waypoint from the contextual menu of the waypoint list.
Follow the displayed route (bearing, estimated travel time and distance).
Waypoints are automatically loaded at startup and saved at the end of the session.

*WIND AND SPEEDS HUD:
The average ground speeds are graphically displayed for every azimuth.
The wind direction is displayed (red arrow) and may be reset at any time during the flight.

*RETURN HOME:
Home direction and Estimated Travel Time to return home is always displayed (shaded red line).
Computations are done according to the wind for accurate results.


Launch the Demonstration mode to have a quick tour.

Visit http://www.ppgps.info
Find us on Facebook: https://www.facebook.com/ppgps
Email: support-ios@ppgps.info

Enjoy your PPG flights with PPGpS and thank you for your feedback.
Don't hesitate to send me your flight kml logs by mail.
تحديث لأحدث إصدار 0.9.4
Last updated on 25/03/2018
الإصدارات القديمة
This app has been updated by Apple to display the Apple Watch app icon.

Bug fixing:
- Font sizes
- Instruments freeze on orientation update (portrait/landscape)
Version History
This app has been updated by Apple to display the Apple Watch app icon.

Bug fixing:
- Font sizes
- Instruments freeze on orientation update (portrait/landscape)
Background tracking
Landscape orientation management for new devices
-Live tracking ! During a flight, your location may be sent to the PPGpS web server, allowing your friends and familly to follow you on the map.
Visit www.ppgps.info for more details.
-Bug fixes: negative coords input fixed for waypoints, orientation change issue
Compatibility with iOS9
Instrument layout fixed at startup
Waypoint management
Orientation lock
Bugs fixing
PPGpS FAQ
تحقق من القائمة التالية لمعرفة الحد الأدنى من المتطلبات PPGpS.
iPhone
Requiere iOS 8.0 o posterior.
iPad
Requiere iPadOS 8.0 o posterior.
iPod touch
Requiere iOS 8.0 o posterior.
PPGpS هي مدعومة على اللغات Francés, Inglés