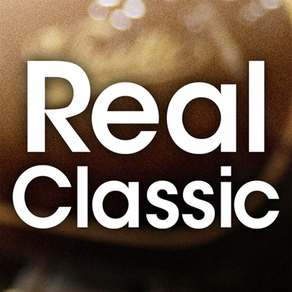 Real Classic Magazine
Gratis
Offers In-App Purchases
6.0.0
for iPhone, iPad and more
لقطات الشاشة لـ Real Classic Magazine
About Real Classic Magazine
RealClassic magazine features the very best British motorcycles from all eras, plus charismatic Continental machines (and the odd Japanese classics crops up occasionally, too).

Long term classic riders will recognise many of the members of the RC team, which includes authors, historians and journalists like Steve Wilson, Dave Minton, Matt Vale, Odgie, Jacqueline 'PUB' Bickerstaff, Rowena Hoseason and editor Frank Westworth -- but the magazine's key feature is that it is firmly grounded in the real world. Our articles are written by real life riders and reflect far more than a simple road test ever can. We're never scared of getting grubby in The Shed (and we even admit it when things go horribly wrong!)

--------------------

Paid-for application downloads include one issue of the user's choice.
Further future issues and back issues can be purchased within the app.
Subscriptions are also available within the application. A subscription will start from the next released issue.

Available subscriptions are:

1 month: £2.49/ US$3.99 (1 issue)
6 months: £9.99/ US$13.99 (6 issues)
12 months: £18.99/ US$26.99 (12 issues)

-The subscription will renew automatically unless cancelled more than 24 hours before the end of the current period. You will be charged for renewal within 24 hours of the end of the current period, for the same duration and at the current subscription rate for the product.
-You may turn off the auto-renewal of subscriptions through your Account Settings, however you are not able to cancel the current subscription during its active period.
-Payment will charged to your iTunes account at confirmation of purchase and any unused portion of a free trial period, if offered, will be forfeited when a subscription to that publication is purchased.
Bundles of single issues can be also be bought within the application. To use purchased credits, simply click on the issue price and select 'use credit'. This allows you to purchase back issues at reduced prices.

Users can register for/ login to a pocketmags account in-app. This will protect their issues in the case of a lost device and allow browsing of purchases on multiple platforms. Existing pocketmags users can retrieve their purchases by logging into their account.

We recommend loading the app for the first time in a wi-fi area so that all issue data is retrieved.
If your app will not load past the splash page after a first install or an update please delete and reinstall the app from the App Store

Help and frequently asked questions be accessed in-app and on pocketmags.
If you have any problems at all please do not hesitate to contact us: help@pocketmags.com

--------------------

You can find our privacy policy here:
http://www.pocketmags.com/privacy.aspx

You can find our terms and conditions here:
http://www.pocketmags.com/terms.aspx
تحديث لأحدث إصدار 6.0.0
Last updated on 30/05/2018
الإصدارات القديمة
This app has been updated by Apple to display the Apple Watch app icon.

Improved reading experience
iPhone X support
Bug fixes and other improvements

**We always love to hear your feedback. If you have any comments or queries please contact us at help@pocketmags.com**
Version History
This app has been updated by Apple to display the Apple Watch app icon.

Improved reading experience
iPhone X support
Bug fixes and other improvements

**We always love to hear your feedback. If you have any comments or queries please contact us at help@pocketmags.com**
Fix for issue download problems on iOS9 when on older app versions

General bug fixes and performance improvements New iPhone layout

**We always love to hear your feedback. If you have any comments or queries please contact us at help@pocketmags.com**
Fix for issue download problems on iOS9 when on older app versions
General bug fixes and performance improvements
New iPhone layout

**We always love to hear your feedback. If you have any comments or queries please contact us at help@pocketmags.com**
-New iOS7 look and feel
-New iPhone homepage and issue details
-Restore purchases fix

As always, if you have any problems at all, please contact us at info@pocketmags.com
-New iOS7 look and feel
-New iPhone homepage and issue details
-Restore purchases fix
-Improved read whilst downloading including faster downloads and iPad 1 compatibility
-Bug fixes including 'fetching data' fix, missing covers on coverflow, audio and video fixes.
-Performance improvements including iPad 1 stability


As always, if you have any problems at all, please contact us at info@pocketmags.com
Updating from 4.9:

-Improved read whilst downloading including faster downloads and iPad 1 compatibility
-Bug fixes including 'fetching data' fix, missing covers on coverflow, audio and video fixes.
-Performance improvements including iPad 1 stability

Updating from 4.2:

-Read whilst downloading (iPad 2, iPad Mini, New iPad, iPhone 4+)
-Faster browsing
-Performance and stability improvements
-Improved design, navigation and layout
-Intermittent lockup on App launch bug fix


V4.9 apps are the first launch of our biggest update yet, we hope you like it as much as we do. We always love to hear your feedback, so should you have any questions, views or ideas please contact us at help@pocketmags.com.

Improved app stability and performance
Additional in app help mechanisms (press the question mark for help and faqs)

If you have any feedback or queries please contact help@pocketmags.com

Real Classic Magazine FAQ
تحقق من القائمة التالية لمعرفة الحد الأدنى من المتطلبات Real Classic Magazine.
iPhone
Requiere iOS 10.0 o posterior.
iPad
Requiere iPadOS 10.0 o posterior.
iPod touch
Requiere iOS 10.0 o posterior.
Real Classic Magazine هي مدعومة على اللغات Inglés
في Real Classic Magazine عمليات شراء داخل التطبيق. يرجى التحقق من خطة الأسعار على النحو التالي:
December 2023 (id:713324)
USD 4.99
October 2023 (id:713328)
USD 4.99
November 2023 (id:713326)
USD 4.99
July 2023 (id:713334)
USD 4.99
September 2023 (id:713330)
USD 4.99
August 2023 (id:713332)
USD 4.99
June 2023 (id:713336)
USD 4.99
May 2023 (id:713338)
USD 4.99
April 2023 (id:713340)
USD 4.99
February 2023 (id:713344)
USD 4.99
بدائل لـ Real Classic Magazine