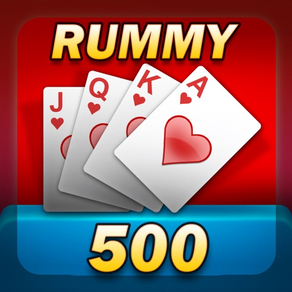 Rummy 500 Classic
1.0
for iPhone, iPad and more
لقطات الشاشة لـ Rummy 500 Classic
About Rummy 500 Classic
Rummy 500 (also known as Persian Rummy, Pinochle Rummy, 500 Rum, 500 Rummy) is a popular Rummy game which is similar to straight Rummy but distinct in the sense that players may draw more than just the upcard from the discard pile.


According to the most commonly played Rummy 500 rules, points are scored for cards that are melded, and points are lost for cards that are not melded (ie deadwood) and remain in a player's hand when someone goes out.


Game Rules:
• The game, like most can be played with 2-4 players
• Only one deck with jokers is used
• 7 cards are distributed to each player
• The objective is to be the first player to reach the goal of 500 points.
• Even if there is more than one player that makes it to the target, only the highest scoring player will be declared the winner.
• You have to form sets and sequences. Sets are any 3-4 cards of the same rank and a sequence are same suit cards in order, 3 or more cards. This is how scoring is done in rummy 500, the sets and sequences are tabulated according to the values of each card.
• Game play consists of drawing a card to start your turn and discarding to end the turn.
• There is a third choice during the turn and this is to lay down a meld or add to a meld someone else has made. This second move is referred to as building.
• The jokers are considered "wild" cards and can be used as any other card in a set or sequence.
• You can pick up one or several of the discarded cards but you have to use the last one played.
• When taking cards from the discard pile you have to use it immediately to form a meld or the move is invalid.
• All of the royalty cards are worth 10 points, the ace can be valued at 11 points depending on its value placed in a meld and it is 15 penalty points if you get caught with it. The Joker counts as the value of the card it replaces and adds 15 penalty points.
• Each game is made up of a series of rounds.
• The score from each round is added in succession. When the total point of any player reaches the target score or exceeds it, that player is said to be the winner.
• Game ends when the target is reached, if there is a tie a play off is started and the winner of this gets the pot.


Features :
- Offline game.
- 3 Super Modes: classic mode, 3 player mode and Speed mode.
- Auto arrange the cards
- Game statistics.
- Easy to play and manage.
- Excellent and fair ai to play with.
- Continue the last game from where you left.
- No login required


If you like Indian Rummy, Gin Rummy and Canasta, or other card games you will love this game. Download the Rummy 500 classic now !
تحديث لأحدث إصدار 1.0
Last updated on 11/11/2020
Rummy 500 Classic FAQ
تحقق من القائمة التالية لمعرفة الحد الأدنى من المتطلبات Rummy 500 Classic.
iPhone
Requiere iOS 9.0 o posterior.
iPad
Requiere iPadOS 9.0 o posterior.
iPod touch
Requiere iOS 9.0 o posterior.
Rummy 500 Classic هي مدعومة على اللغات Inglés
بدائل لـ Rummy 500 Classic