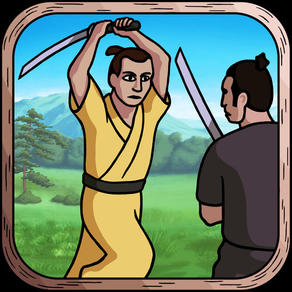 لقطات الشاشة لـ Samurai Rush
About Samurai Rush
Download and Try the Game for FREE!!!

Run, dodge and cut through hordes of enemies and skilled bosses!

"I was able to enjoy the game's colorful backdrops and one of those gaming "zen" moments." - TouchGen

Your village has been attacked. Many are slain. Many are taken. You must run after those who did this, don't let them stop you, and free your friends and family.

Make your way through 30 levels including 3 boss fights in the full version of this beautifully painted samurai sword fighting/running game.

You die from only one hit so you have to outmanouver your enemies by changing position close to them. Some levels are quite puzzling, but there are multiple solutions and the many checkpoints will help your progress.

Prepare yourself to face countless enemies and tough bosses. Will you have the samurai skills needed to complete this mission?

FEATURES:
- Compatible with iPhone 3GS / iPod Touch (3rd Gen.) and above
- Unlock the Full Version, which includes: 30 Levels, Multiple Checkpoints and 3 Boss Fights
- Experience 3 Chapters in the Full Version, which features Increasing Difficulty and Unique Graphics
- 4 Difficulty Settings provides Long-Time Challenges and Replayability
- Beautiful Cutscenes
- Puzzling Levels with Multiple Solutions
- Game Center Achievements

MORE GAMES BY ME:
Check out my new game Scrap Hunt!
تحديث لأحدث إصدار 1.0.2
Last updated on 11/09/2012
Samurai Rush FAQ
تحقق من القائمة التالية لمعرفة الحد الأدنى من المتطلبات Samurai Rush.
Samurai Rush هي مدعومة على اللغات English