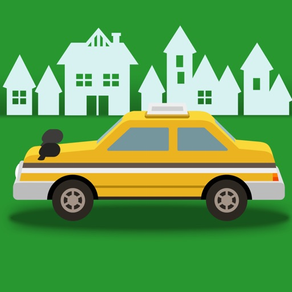 TOKOTON Vol.2 cars!
1.1.3
for iPhone, iPad and more
لقطات الشاشة لـ TOKOTON Vol.2 cars!
About TOKOTON Vol.2 cars!
In this car app for kids and babies, three different types of cars appear when the user touches the screen with their fingers.

Touch the screen and a car appears! Hold down and the car gets bigger and bigger! The more you touch, the more cars appear!

Police cars, buses, taxis... children can make their favorite cars appear with the touch of their little fingers. The colorful cars move about, putting kids and babies as young as 0 in a trance!

A stylish setting, a cute policewoman—the scenery might just change, depending on which part of the screen you touch!

Have a go at tapping the various items on the screen. You might even notice some things that change with time, and lights that blink.

Interesting changes take place as the screen is touched, which is great for children's hand-eye coordination.

When the right side of the screen is touched, cars race to the left, and when the left side is touched, they race to the right. Cars' body colors are randomly chosen from red, yellow, green and blue. These fun features help children to remember right and left and colors!


≠≠≠≠ How to Play ≠≠≠≠

Once you've launched the app, tap the screen! All kinds of cars will appear and start racing around!

Next, try holding your fingers down. The cars get bigger and bigger, and take off when you release your fingers!

The scenery, too, is full of secrets. It even changes with time!

What will happen when you tap on the background...? There's also a kitty cat, a special hidden character who only comes out when two people play together.

See if you can find him!


≠≠≠≠ Features ≠≠≠≠

There are no settings buttons or ads on the screen, so the app will not stop running no matter where your child taps.

In addition, the app can handle large numbers of simultaneous touches, so your child can enjoy the app together with brothers and sisters, Mom and Dad, Grandpa and Grandma or friends.


≠≠≠≠ About the TOKOTON Series ≠≠≠≠

The TOKOTON Series is a series of apps for kids brought to you by maruco Inc.

- TOKOTON Vol.1 locomotive!

- TOKOTON Vol.2 cars! (This app)

TOKOTON series of "Funny Fun" apps is planned with the theme of bringing a smile to your crying child's face!


≠≠≠≠ Target Ages ≠≠≠≠

Children from approximately one to five years old


≠≠≠≠ Questions and Comments ≠≠≠≠

app@ma-ru-co.jp

Send us an email at maruco Inc!
تحديث لأحدث إصدار 1.1.3
Last updated on 22/02/2023
الإصدارات القديمة
- Compatible with the latest iOS
Version History
- Compatible with the latest iOS
- Fixed a bug at stage change
- Supported vertically long screens
TOKOTON Vol.2 cars! FAQ
تحقق من القائمة التالية لمعرفة الحد الأدنى من المتطلبات TOKOTON Vol.2 cars!.
iPhone
Requiere iOS 11.0 o posterior.
iPad
Requiere iPadOS 11.0 o posterior.
iPod touch
Requiere iOS 11.0 o posterior.
TOKOTON Vol.2 cars! هي مدعومة على اللغات Inglés
الفيديوهات المرتبطة
Latest introduction video of TOKOTON Vol.2 cars! on iPhone
بدائل لـ TOKOTON Vol.2 cars!