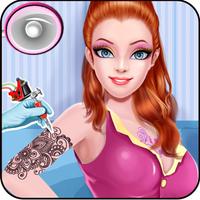 Art Tattoo Salon
Free Get
Art Tattoo Salon Description
Hello, how are you? Do you like to always look good? Do you want to be always in fashion? Do you pay attention to the way you look whenever you go out with your friends? If you want to always be appreciated by others means you are a young man with a very strong personality and certainly you seem interesting the tattoos. Many people turning to tattoos to express many feelings and today you will have the opportunity to work in a salon to make tattoos. This salon game is exactly what you need, you can entertain yourself very well with us. You will make new friends and you will like very much to practice several skills. In this girls game with tattoos you will discover many interesting things you will be the most beautiful you can prove to everyone that you are a responsible child who may have an important job. Making tattoos is very beautiful, you have to be an especially gifted child and you have to really like what you are doing.
You will have many clients and you must be very attentive to all the instructions of this game for girls.
Good luck!
- Linda is your first client;
- She wants a beautiful tattoo '
- You'll have to help her;
- For starters you should consult her;
- Check heartbeat;
- Then you should choose models;
- Disinfect utensils;
- You can start to paint;
- You have to make tattoos on his back and arms;
- You must be careful;
- You did the most beautiful tattoos;
- Linda is happy;
- Now you have to help her choose the right clothes;
- You did a great job;
- You are a wonderful friend.