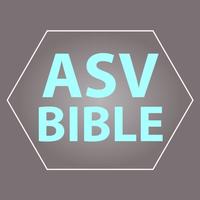 ASV Bible Offline - Holy Bible
Free Get
Screenshots for iPhone
More Screenshots for iPad
ASV Bible Offline - Holy Bible Description
ASV Bible for your iPhone, iPad or iPod that one can read easily. The Revised Version, Standard American Edition of the Bible, more commonly known as the American Standard Version (ASV), was released in the early 90's and it became part of books in the public domain. It is very popular in the united states and one of the widely used versions.

With the many Bible versions we have, this is another one you can use together with other Bibles like the KJV Bible. Learning the Bible and knowing God through the written word is what makes us who we are as children of the most High God. Jesus said "My word is life and truth"

Some have written that "It was originally best known by its full name such as the American Revised Version, the American Standard Revision, the American Standard Revised Bible, and the American Standard Edition".


American Standard Version Bible or ASV Bible has the following features
1. Daily Bible Verse
We have selected great Bible verses that will inspire you everyday to read the word of God. Let us learn to meditate on God's word daily. Open your phone in the morning to a good and soothing Bible verse for inspiration

2. Daily Chapter in ASV Bible
If you make it a habit to read one chapter of the ASV Bible offline daily, you will be amazed that at the end of the year you will now know about 365 chapters which is great as a student of the word of God.

3. Topical Bible Verses from Bible ASV offline
In this American Standard Version Bible offline, you get to find specially picked verses that can help you in various situations. When you want to find quick access to love Bible verses, you can find it.

4. Track your progress in ASV Bible
Do you want to know how many scriptures or verses you have read, there is a progress bar that helps you to get that noted down. You should click on the tick and then it will show as chapter completed.

5. Bible Chapter Selection in Holy Bible ASV
You can select either Old Testament of the ASV Bible or New Testament. The Old testament has 39 chapters and the new testament has 27 chapters. In total the American Standard Version Bible for offline use has 66 chapters just like all other Bibles

6. Easy share feature
In this ASV Offline Bible, you can share a lot of the verses with other people. The sharing feature can also be done on image. This means you can personalize the Bible verses from the ASV Bible. You can easily share on Twitter, Facebook and other social media platform.
ASV Bible Offline - Holy Bible 40.0 Update
- Fixed iPhone 8 plus layout issue
- Urgent update
More