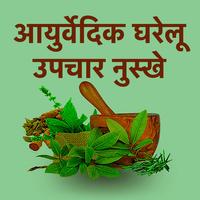 Ayurvedic Upchar Ayurveda Upay
Free Get
Ayurvedic Upchar Ayurveda Upay Description
Hindi Ayurvedic Gharelu Upchar : Home Remedies

Home remedies are safe and useful for the common ailments. Most of the non life threatening illness can be treated at home. Learn how you can use natural cures (alternative medicine or herbal cure) to replace many of the most commonly used over-the-counter drugs in the treatment of common ailments. If you use home remedies wisely, it will save your time and money. Hope this app helps you to find your own path of healing through natural remedies.

Benefits of Home Remedies
- Made up from herbs, spices, fruits, and vegetables
- Simple to prepare, pure and no side effects on body
- Can helps 100's of ailments, like Acne, common cold, cough, flu, Hair loss, Backache, stress, Diabetes and High Blood Pressure
- Effective to boost your child's immunity
- Help to recover fast in seniors
- Inexpensive and joy of self cure
- Ayurvedic Gharelu Nuskhe
- Weight Loss Tips
- Weight Gain Tips
- Height Gain Tips
- Beauty Tips
- Hair Care Tips
- Dadi Maa Ke Ayuredic Upay
- Herbs ke Fayede

Disclaimer:
1. The info contained in the app is not a substitute for professional medical or health advice, examination, diagnosis, or treatment. This app disclaims any liability for any decisions you make based on the information provided.
2. This app is a self-contained offline app with a part of the contents from public domain.
3. The purpose of app is to provide entertainment/general information to user. All the images and text contained in the app are collected from different internet sources. All the images are readily available in various places on the internet and are believed to be in the public domain.