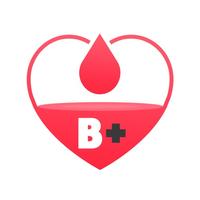 B Positive - Get Blood Anytime
Free Get
B Positive - Get Blood Anytime Description
Do you feel you don't have much to offer? You have the most precious resource of all: the ability to save a life by donating blood! Help share this invaluable gift with someone in need, using this app you can get blood your near by of any group and even you have to register yourself so that other's can get blood from you.
you can get any group of blood whether its A+, B+, AB+, O+, O-, AB-

Facts about blood needs

- Every year our nation requires about 5 Crore units of blood, out of which only a meager 2.5 Crore units of blood are available.
- The gift of blood is the gift of life. There is no substitute for human blood.
- Every two seconds someone needs blood.
- More than 38,000 blood donations are needed every day.
- A total of 30 million blood components are transfused each year.
- The average red blood cell transfusion is approximately 3 pints.
- The blood type most often requested by hospitals is Type O.
- Sickle cell patients can require frequent blood transfusions throughout their lives.
- More than 1 million new people are diagnosed with cancer each year. Many of them will need blood, sometimes daily, during their chemotherapy treatment.
- A single car accident victim can require as many as 100 units of blood

Tips for successful donation -


- Drink plenty of water so you are well-hydrated before donating.
- Bring a donor card, driver's license or two other forms of ID with you to verify your age.
- Have a healthy meal before you donate and try to avoid fatty foods.
- Wear clothing with sleeves that can be raised above the elbow.
- If you are taking any medications, bring a list of those with you.
- If you are 16-years-old, you may be able to donate with written parental consent. Find the form for your state.
- If you are not feeling well on the day of your donation, please contact us to reschedule your appointment.

Facts about the blood supply

- Blood cannot be manufactured – it can only come from generous donors.
- Type O-negative blood (red cells) can be transfused to patients of all blood types. It is always in great demand and often in short supply.
- Type AB-positive plasma can be transfused to patients of all other blood types. AB plasma is also usually in short supply.

Facts about blood and its components

- Blood makes up about 7 percent of your body's weight.
- There are four types of transfusable products that can be derived from blood: red cells, platelets, plasma and cryoprecipitate. Typically, two or three of these are produced from a unit of donated whole blood – hence each donation can help save up to three lives.
- Donors can give either whole blood or specific blood components only. The process of donating specific blood components – red cells, plasma or platelets – is called apheresis.
- One transfusion dose of platelets can be obtained through one apheresis donation of platelets or by combining the platelets derived from five whole blood donations.
- Donated platelets must be used within five days of collection.
- Healthy bone marrow makes a constant supply of red cells, plasma and platelets. The body will replenish the elements given during a blood donation – some in a matter of hours and others in a matter of weeks.
B Positive - Get Blood Anytime 1.3 Update