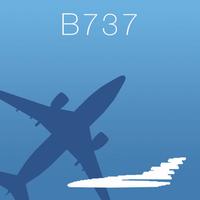 B737-300/400/500 Study App
Not Available
Removed
from the App Store
Screenshots for iPhone
More Screenshots for iPad
B737-300/400/500 Study App Description
The JETPUBS 737-300/400/500 Classic Study App.

features:

737 AIRCRAFT SYSTEMS FLASH CARDS:
•Air Systems (27 Flashcards)
•Aircraft General (28 Flashcards)
•Electrical (12 Flashcards)
•Fuel System (19 Flashcards)
•Hydraulics (18 Flashcards)
•Landing Gear and Brakes (14 Flashcards)
•Random Questions (28 Flashcards)
•Engines (33 Flashcards)
•Pressurization (8 Flashcards)
•Flight Controls (54 Flashcards)
•Ice and Rain Protection (25 Flashcards)
•737-300 Limitations (77 Flashcards)
•737-400 Limitations (13 Flashcards)
•737-500 Limitations (11 Flashcards)

737 CHECK RIDE ORAL FLASHCARDS
•Flight Control Panel (12 Flashcards)
•Hydraulic Panel (7 Flashcards)
•FMC (2 Flashcards)
•IRS Mode Selector Panel (1 Flashcard)
•Fuel Control Panel (7 Flashcards)
•GRD PWR & BUS Trans Panel (7 Flashcards)
•AC & DC Metering Panel (4 Flashcards)
•Engine Panel (6 Flashcards)
•Oxygen Panel (6 Flashcards)
•Window & Probe Heat Panel (4 Flashcards)
•Air Conditioning Controls (14 Flashcards)
•Flight Recorder (1 Flashcard)
•Overheat & Fire Protection Panel (5 Flashcards)
•Cargo Fire Panel (1 Flashcard)
•Exterior Door Lights (1 Flashcard)
•PSEU Switch (1 Flashcard)
•Stab Trim Switch (1 Flashcard)
•Center Pedestal (1 Flashcard)

QUIZZES:
•There are 10 multiple choice quizzes that include flight controls, hydraulics, fuel systems, limitations, Check Ride Oral Prep, APU, Electrical, Pneumatics & Brakes.

ZOOMABLE COCKPIT PANELS and SCHEMATICS in •High Definition include:
•Forward Instrument Panel
•Center Pedestal
•737 Classic Overhead Panel
•Aft Overhead Panel
•Fuel Schematic
•Pneumatic Schematic
•Electrical Schematic
•Hydraulic Schematic
•Standby Hydraulic Schematic
•Air Conditioning Schematic

MEMORY ITEMS
•APU Fire
•Aborted Engine Start
•Rapid Depressurization
•Engine Fire or Damage
•Engine Overheat
•Emergency Descent
•Engine Surge or Stall

CALCULATOR
•The calculator in this app provides for fast and easy conversion of the most common aviation formulas including:
1. Foot - Metre
2. Nautical Mile - Statute Mile
3. Inch - Metre
4. Pound - Kilogram
5. Gallon (US) - Litre
6. Gallon (Imp.) - Litre
7. Fahrenheit - Celsius
8. Pressure inHg - hPa
9. Gallons - lbs
10. Knots - MPH

737 FILES (From this section you can print, email, save or bookmark the following Files)
•Memory Items
•737 WalkAround
•Air Conditioning System Description
•Electrical System Description
•Emergency System Description
•Fire Protection System Description
•Flight Control System Description
•Fuel System Description
•Hydraulic System Description
•Ice and Rain Protection Description
•Oxygen System Description
•Pneumatic System Description
•Power plant and APU System Descriptions
•Pressurization Description
•737 Questions and Answers

LIGHTS & SWITCHES GUIDE
•The Lights and Switches Guide Contains 193 pages of aircraft system information with detailed panels and schematics. Quickly find the location of the system you are studying.

AIRPORTS & WEATHER
•Check weather from over 3,000 airports (domestic and international). Find distance in NM from TO and FROM multiple airports. Use the weather feature to access the latest METAR, TAF and other airport information. Must have WIFI or cellular connection for this feature.
•Use the GPS tracking feature for cross country flights.

PILOT FORUM
•Members of this forum can communicate with other users of the app to ask questions, network and search for jobs in the aviation community.

CUSTOM AIRCRAFT VIDEO RECORDER
•Record, save and categorize your aircraft videos.
•Record ground school, aircraft walk-arounds, and flights.
•Record and save unlimited videos.

CUSTOM AIRCRAFT FLASHCARD MAKER
• Easily make your own systems flashcards by naming the category and typing in your own question and answer.
•Create unlimited categories.
•Create unlimited questions and answers.

This app offers pilots a fast & easy way to study on the go!
•FREE Updates!!
•No internet connection required to view material!!
B737-300/400/500 Study App 7.0 Update
Fix to METAR and TAF code.
More