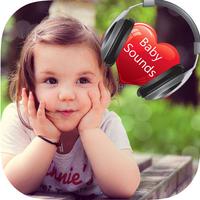 Baby Sound - Baby Cry, Baby Laugh , Kids Sounds
Free Get
Baby Sound - Baby Cry, Baby Laugh , Kids Sounds Description
Baby Sounds contains 18 different baby sounds so you can listen to them at any time, without a data connection!
Want to hear some baby sounds? Whatever the reason you have, you will get a nice collection of many baby sounds: babbling babies, crying babies, laughing babies, babies saying i love you, singing babies, etc.

Some of the great features:
1. High quality Baby Sound
2. You can customize sounds as you like
3. Optional piano tracks in the background
4. Simple and beautiful design
5. Timer - so the app turns off automatically
6. Beautiful background images

You can enjoy eighteen different Baby Sound:

1. Babies fight over toy
2. Baby boy laughing
3. baby crying 1
4. Baby crying 2
5. cute laughing
6. Baby fart 1
7. fart 2
8. fart 3
9. funny coughing
10. baby giggling
11. baby laughing 1
12. laughing 2
13. baby scary crying
14. baby sneeze fart
15. saying oh no
16. sneeizing
17. saying ilove you
18. trying to talk

If you have any comment or suggestion please let us know so we can make this app better.
Baby Sound - Baby Cry, Baby Laugh , Kids Sounds 3.0 Update
fix size timer dialog
More