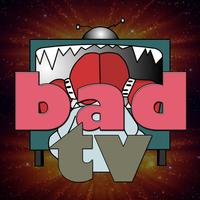 BadTV
Not Available
Removed
from the App Store
BadTV Description
Sick of finding a blaring television wherever you go? Well, here's your chance to blow up all those reality TV shows, talk shows, talent shows and infomercials you love to hate! Fight back against the constant barrage of mind-numbing programming with this new 60 level puzzle game. Get that annoying television onto the electrified block and blow up that Bad Tv! Culture-Shock Therapy for only 99 cents!

BadTV Productions is the creator of BadTV App Games and is the first game to incorporate SNL-style sketch comedy with app game entertainment. Founded by Stephen J. Curwick, writer of Police Academy 5 & 6, and Don Raymond, founding member of Big Daddy, famed Rock and Roll Mash Up Spoof Kings.
BadTV 1.0.1 Update
Better optimization for mobile devices.
More