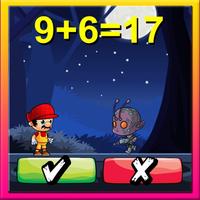 basic math fun game
Free Get
basic math fun game Description
By studying math you develop analytical skills and an analytical attitude. You learn to pay attention to all the assumptions involved in a given problem or situation, and you learn to break down a complicated problem into a series of tractable steps. You develop the habit of critical thinking: testing your conclusions-and the conclusions of others-to make sure they're based on adequate data and accurate reasoning.

Basic Math Fun Game-Fast Math.
Basic Math Fun Game-Fast Math is a simple math game that challenge you to determine the correct answer in a limited time, less than 3 seconds.

Basic Math Fun Game-Fast Math comes with a leader board, so you can see your friend's scores and try to beat their score for a spot at the top of leader board.
basic math fun game 1.0 Update