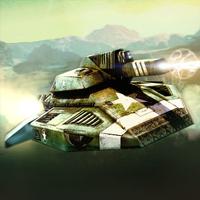 Battlezone 98 Redux Odyssey Edition
$9.99
Battlezone 98 Redux Odyssey Edition Description
*** Please note that Battlezone 98 Redux requires iPad Mini Retina, iPad Air, iPad Pro or newer to run. ***

Battlezone 98 Redux delivers one of the toughest, most unforgiving retro sci-fi strategy games of all time with punishing campaigns, remastered visuals, and intense online multiplayer. This "Odyssey Edition" completes the package with the inclusion of The Red Odyssey, a formidable expansion featuring additional playable factions, campaigns, vehicles and more!
------------
Enter an alternate vision of the 1960s where the "space race" is nothing more than a cover for an interplanetary war between the US and Soviet Russia over mysterious alien bio-metal.
Take command of an army of sleek heavy assault tanks, strike cruisers, APCs and more, and wreak havoc with super-heated projectiles in your mission to blast your enemy from the face of the Moon, Mars, Venus, Titan, Io, Europa and more.
Control your array of vehicles with the retro user interface that added to the unrelenting and uncompromising nature of some of the earliest RTS classics!
Scavenge the battlefield for crucial bio-metal, deploy powerful defenses, construct advanced facilities and escalate each battle to an epic confrontation.
Revolutionary, revitalized and remastered, Battlezone 98 Redux's blend of thrilling first person action and old-school PC strategy gameplay is as essential now as it ever was.

KEY FEATURES:
Critically Acclaimed RTS:
• Command the battlefield and fight vehicle-to-vehicle from first and third-person view.
• Unleash mechanized devastation with a huge tactical arsenal including Howitzers, MAG Cannons, Cold Fusion Lasers, Day Wrecker Artillery, and more.
• Customize and fortify your bases from the ground-up with production factories, power plants, barracks, armories, command towers and deadly defensive turrets.
Four Explosively Difficult Campaigns:
• Experience 48 grueling missions across 8 different planetary environments.
• Play as the American NSDF and NSDF Black Dogs factions, the Soviet CCA or the Chinese Red Army, each with their own uniquely tough campaign.
Sleek Remastered Visuals:
• Remodeled hi-res vehicles and buildings.
• Enhanced lighting, shadows and improved particle effects.
• Upgraded animations, upscaled terrain and more.
Online Multiplayer* for 2-8 players:
• Test your skills in pulse-pounding head to head battles.
• Experience the classic rush of "Deathmatch" and "King of the Hill".
* Wi-Fi connection recommended and a Game Center login is required to play Multiplayer.