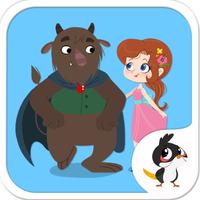 Beauty And Beast - Fairytale
Free Get
Beauty And Beast - Fairytale Description
"Once upon a time there lived a wealthy merchant and his three daughters.
One day, the father was to go to a far-off place and he asked his daughters what they wanted on his return. The first and the second daughter asked for lovely dresses. But the third daughter, whose name was Beauty, said, "Father, I only need a rose plucked by your hand." The merchant, on his way back, had to cross through the deep forest. It was dark and the merchant tried to find a place to sleep. He suddenly found a huge castle and went inside to find nobody. There was a huge table with delicious food and he ate it all. Then the merchant went into the bedroom and slept on a soft and fluffy bed. The next day, too, the merchant did not find anyone in the castle. He saw a beautiful rose bush growing in the lawn and remembered Beauty's gift. He plucked a red rose from the bush"

Download this book for the full story
We have interpreted "The Beauty And The Beast" classic story in a modern way by designing it in the form of an interactive ebook application.

HIGHLIGHTS:
- Interactive storybook with great animations stimulating the imagination
- Professional narration and music create delightful ambiance
- Pages with lovingly designed graphics and animations that bring characters to life
- Cute recognizable characters from your favorite story book
- Simple and intuitive interface
- Languages: English and Hindi.
- No Ads
- Fun animations
- Interactions
- Multiple Languages
- Parental gateway
- Wonderful music
- Read along background voices
- Learning through fairy tales, stories and books.
Beauty And Beast - Fairytale 1.1 Update
- Improved Animations.
- Various performance improvements.
More