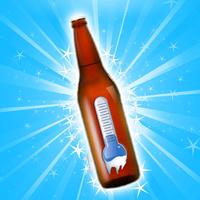 Beermometer
Free Get
Beermometer Description
The Beermometer is a revolutionary application which utilizes temperature decay to accurately determine the time it takes for your beer (can or bottle) or wine to reach a desired temperature.

DO YOU EVER...
• Want your wine to have a nice chill?
• Buy warm beer and throw it in the freezer only to forget about it until the next day when you have to clean up all your frozen (and wasted!) beer shards?
• Throw your beer in the snowbank only to forget about it?
• Start drinking your beer while it's still warm?

NEVER AGAIN.
With the Beermometer, we'll let you know when your beer (or wine) is ready.
Choose what you're drinking, where it's going, how it is now and how you want it, and let us take care of the rest!

FEATURES
• Knows the temperature of your location if you want to put it outside (for those colder places)
• NEVER deal with frozen beer again!
• Get notified by local push notifications, email, twitter or text message
• No internet connection required for local push notifications
• Fairly comprehensive list of North American cellular service providers included for sms messaging

HOW TO USE IT
• Choose what you're drinking
• Choose how it is right now
•; Choose where it's going
• Choose how you want it
• Let us know how to tell you it's ready
• Enjoy your beverage!

APP CRASHING?
If your app is crashing, try disabling location services - if that fixes it, send us an email at support@beermometer.com with your latitude/longitude and we'll look into why it's breaking!