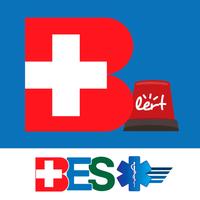 BES i lert u
Free Get
BES i lert u Description
ศูนย์บริการรถฉุกเฉินในเครือโรงพยาบาลกรุงเทพฯ เป็นศูนย์สั่งการรถบริการฉุกเฉินเพื่อความสะดวกในการให้บริการกับผู้ป่วย และเป็นการช่วยชีวิตผู้ป่วยอย่างทันท่วงที โดยการให้โรงพยาบาลในเครือ ซึ่งอยู่ใกล้บ้านผู้ป่วยที่สุด ออกไปรับ และทำหัตถการช่วยเหลือชีวิตเบื้องต้นก่อนทำการเคลื่อนย้ายส่งผู้ป่วยส่งโรงพยาบาล และสิ่งนี้คือ อีกหนึ่งการเปลี่ยนแปลงในวงการแพทย์ฉุกเฉิน ที่นำนวัตกรรมของ ilertu มาช่วย ทำให้สามารถรู้ตำแหน่งของผู้ประสบเหตุฉุกเฉิน ไม่ว่าจะเป็นที่บ้าน หรือที่ใดก็ตาม

BES Bangkok Emergency Service เพราะทุกเสี้ยววินาที=ชีวิต
โดยเครือโรงพยาบาลกรุงเทพ ทั่วประเทศ ใช้ระบบ ilertu


Emergency Service center in Bangkok Hospital group is emergency ambulance command and control centers providing convenient service for patient and rescue patient in time. The nearest hospital group to patient house will pick up and does basic life support include first aid before move the patient to the hospital.
This is one of primary change in Emergency Medical System that bring ilertu innovation to help to get the location of emergency victim wherever home or everywhere else.

BES Bangkok Emergency Service, because every seconds mean life.
Bangkok Hospital group in Thailand use ilertu system.


Remark :
We have "GPS Find Friends" Function, for this function have to open GPS. The application will be request you to answer as follow:-
"Continued use of GPS running in the background can dramatically decrease battery life."
and you have to choose OK or Cancel.
BES i lert u 1.1.9 Update