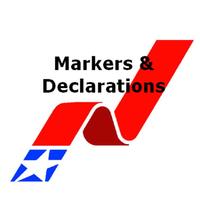 BFA Declares and Marks
Free Get
BFA Declares and Marks Description
This allows declarations and marker drops to be sent to a central database where the scorer can access them.

YOU ACKNOWLEDGE AND AGREE THAT THE APPLICATION IS PROVIDED TO YOU ON AN "AS IS" AND "AS AVAILABLE" BASIS WITHOUT WARRANTY OF ANY KIND AND THAT YOUR USE OF OR RELIANCE UPON THE APPLICATION IS AT YOUR SOLE RISK AND DISCRETION. WE MAKE NO WARRANTIES, WHETHER EXPRESS OR IMPLIED AND INCLUDING WITHOUT LIMITATION THE IMPLIED WARRANTIES OF MERCHANTABILITY AND FITNESS FOR A PARTICULAR PURPOSE. FURTHERMORE, MIKE GILLIGAN (AUTHOR), THE BALLOON FEDERATION OF AMERICA (PUBLISHER), THE BALLOON FEDERATION OF AMERICA HOT AIR COMPETITION DIVISION AND THEIR AFFILIATES MAKE NO REPRESENTATION THAT THE APPLICATION IS FREE OF ERROR, OR IS CONSISTENT WITH ANY PARTICULAR STANDARD OF QUALITY, OR THAT THE APPLICATION WILL MEET YOUR REQUIREMENTS FOR ANY PARTICULAR USE. IT SHOULD NOT BE RELIED ON FOR SOLVING A PROBLEM WHOSE INCORRECT SOLUTION COULD RESULT IN INJURY TO A PERSON OR LOSS OF PROPERTY. IF YOU DO USE IT IN SUCH A MANNER, IT IS AT YOUR OWN RISK. THE AUTHOR AND PUBLISHER DISCLAIM ALL LIABILITY FOR DIRECT, INDIRECT, SPECIAL OR CONSEQUENTIAL, DAMAGES RESULTING FROM YOUR USE OF THE APPLICATION.
BFA Declares and Marks 3.1.2 Update
Notification alerts every 15 minutes if app running in the background to prevent accidental battery drain.
More