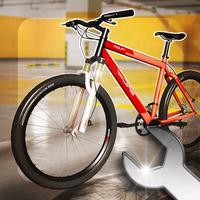 Bicycle Mechanic Simulator 3D
Free Get
Bicycle Mechanic Simulator 3D Description
Love car mechanic games? Listen to "Fix my bicycle, you're my only hope" and become the best bike mechanic, who finds a solution for every puzzle.

Level up your own garage workshop
Since we're here, take care of your mechanic job and upgrade your garage. Then your experience will be more than simple mechanic simulator game.

Not another racing game
There are many ways to become a real bicycle mechanic tycoon. In Bicycle Mechanic Simulator engineering knowledge helps drive your success. Maybe you're not a car mechanic but bike servicing simulator is a perfect beginning. Remember your mechanic job takes crucial part in season preparation. You make bike racing dreams come true!

In bicycle mechanic job simulation, you're charged with a variety of tasks:
– games or fights with a flat tire
– purchasing rare extreme tools for mechanic geeks
– becoming a real bicycle tuner
– repairing & servicing bicycles and returning them to brand new factory condition.

Find out yourself with Bicycle Mechanic Simulator – probably the best mechanic simulator of 2018.

What else you can do in Bicycle Mechanic Simulator?
Modify customer's ride with care and repairing skill. Later replace any defect you're able to diagnose and wait for fair reward. Don't forget about test drive right behind garage workshop! You're not only a professional bike mechanic but also take similar jobs like tuner. Make customization with parts from your own junkyard and use your screwdriver to make it look awesome and useful! Release inner builder to create real miracles of human-powered land vehicles and don't forget about replenishment of your own workplace storage.

FEATURES:
• Fix any bike.
• Collect tools and upgrade your bike garage.
• Change flat tire or rim wires, replace damaged brake and finally make customer's bicycle move from your workshop to bike parking on its own wheels.
• Become a junkyard tycoon.

Leave all car mechanic games alone! Make your bicycle mechanic fixing dreams come true in one of the best bike garage workshop games for boys and girls! It's time for you to have the auto repair shop on your own. Download Bicycle Mechanic Simulator for free and play the way every motorbike mechanic can only imagine!
Bicycle Mechanic Simulator 3D 1.0 Update