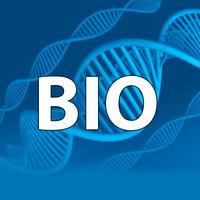 Biology - For Education
$9.99
Screenshots for iPhone
More Screenshots for iPad
Biology - For Education Description
This app will provide you with curriculum content for Biology across age ranges: 'ages 11-14', 'ages 14-16' with some additional topics for ages '16-18'.

Visually stunning, this single app covers all these topic areas:

-Cellular Respiration
What is respiration? Glycolysis, link reactions and the Krebs Cycle, oxidative phosphorylation, anaerobic respiration, respiratory substrate

-Circulation
Arteries, veins and capillaries, composition of blood defence against disease, the heart, heart disease

-Digestion
Diet, the human digestive system, enzymes


-Genetics
Cells, inheritance, mutation and inherited diseases, variation, genetic engineering

-Healthy Living
Diet, fitness and health, health of the skeletal system, illegal drugs, recreational drugs, medicinal drugs, other health issues

-Hormones and Reproduction
Reproduction, the menstrual cycle, pregnancy and birth, puberty, infertility, other hormones, contraception

-Kidneys & Homeostasis
The excretory system, removing waste, kidney failure, water control, homeostasis


-Living Things & Their Environments
Energy transfer, nutrient cycling, pollution

-Micro-organisms and Biotechnology
Classes of microbes, microbes and disease, defence against microbes, microbes and food production, other applications of biotechnology, famous microbial discoveries

-Nervous System
Neurons, reflexes, senses, stimuli

-Nucleic Acids and Genetic Engineering
Nucleic acids, DNA replication and protein synthesis, genetic engineering, issues and uses of gene technology, nuclear division

-Plant Biology
Leaves, photosynthesis, plant growth, reproduction, transport

-Respiration
The breathing system, breathing and exercise, respiration, smoking



The App uses high quality 3D animation, video, imagery, professional voice-overs, text and interactive activities with high score functions to ensure effective learning of relevant curriculum topics. Superb for class or independent learning and revision both in school and at home, delivering an engaging interactive learning experience.

Thanks to a user-friendly interface, navigation through the content is made easy and intuitive, including swipe gestures, scrolls and expandable menus.

Each section is completed with activities (fill in the blanks and quizzes) to reinforce learning.

You can easily take a test on any topic, and know which ones you haven't been tested on yet, or redo the ones you haven't scored 100% on yet. You can even compare your scores with other users through the game center, highlighting performance on each topic, age range or whole subject.
Biology - For Education 2.1.0 Update
This version is an update so that this app can be run on iOS12+
More