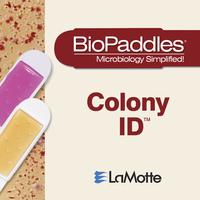 BioPaddles
$5.99
BioPaddles Description
BioPaddles® allows the user to presumptively identify microbe colonies on LaMotte BioPaddles® by comparing them to a library of over 250 standard images covering 30+ microbe genera in 5 microhabitats (AIR, WATER, SOIL, SURFACE, and FOOD) on 9 paddle agar types. The image series includes side views, and top views at the colony and cell level.

This unique app allows digital image capture, import, and comparison. It also allows the creation and emailing of reports.

Resource materials include instructions for use of the BioPaddles®, detailed fact sheets for each agar type and microbe genera (along with selected species) – including microhabitat preferences, procedures for common microbiological techniques, and examples of microbe growth on BioPaddles® from a variety of microhabitat sources.
BioPaddles 5.0 Update
Major upgrade to all of the information documents.
More