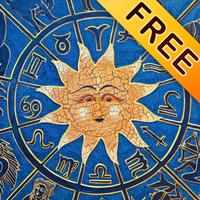 Biorhythm and Horoscope FREE
Not Available
Removed
from the App Store
Biorhythm and Horoscope FREE Description
★★★★★★★★★★★★★★★
Biorhythm is an necessity iPhone app that enables us to view our biorhythm we are familiar with anytime.
various information associated with Biorhythm and Horoscope
★★★★★★★★★★★★★★★

Biorhythm means regular four cycles of physical, emotional, intellectual and intuitive that a person has.
This is based on the theory of a German doctor, William Fliess, in the 19th century.
A person has four cycles repeating periodically from birthday, the number of days to repeat the four cycles and calculation methods are as follows.

d = Survival days
- Physical: sin(2π d / 23)
- Emotional: sin(2π d / 28)
- Intellectual: sin(2π d / 33)
- Intuitive: sin(2π d / 38)

Each cycle's value is expressed with a value between the minimum, -100 and the maximum, 100.
In terms of the value, from -100 to -1 is called a low phase, and from 1 to 100 is called a high phase.
The day at the point of 0 where a low phase turns a high phase or a high phase turns a low phase is called a dangerous day.


▣ Functions
► Biorhythm
- a lot of families and friend, etc. can register.
- one month ,two months, three months, five months, 1 year optional diplay.
- Physical Critical days, Intelletual Critical days, Emotional Critical days, All Critical days reported.
- scroll and touch graph diplay.
- Biorhythm Infomation.

► Today's Lucky infomation display
- Today's number
- Today's color
- Today's direction
- Today's place

► Horoscope
- Calculate your sign
- Lucky Day information
- Lucky Number information
- Lucky Color information
- Lucky Stone information
- Lucky Talisman information
- Health ,BeautyScope ,Food, Habits, Positive , Negative etc.
More Information
Language:

Chinese

Dutch

English

French

German

Italian

Japanese

Korean

Russian

More