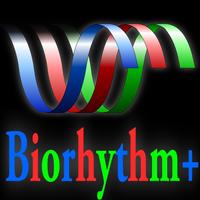 Biorhythm+
$0.99
Biorhythm+ Description
It is an application that displays the biorhythm graph.

The name and the birthday can be registered by an easy operation.
(A lot of families and friend, etc. can register. )

A graphical representation for one month and three months, today, and a birthday and specified days can be displayed.

Biorhythm features.

1. Register name and birthday.

2. Registration list of biorhythm.
* Physical--------> -100 to 100.
Activity rhythm of body of physical strength etc. (cycle of the 23rd)
* Emotional ------> -100 to 100.
Activity rhythm of feelings like energy and emotion, etc. (cycle of the 28th)
* Intellect--------> -100 to 100.
Activity rhythm of intellect like idea and memory, etc. (cycle of the 33rd)
** Minus is unhappy, and plus is happy, zero is dangerous.
* The comment on a today is displayed by the tap.

3. View the Biorhythm today. (Color of face icon)
* Happy --------> green.
* Standard ------> blue.
* unhappy ------> yellow.
* attention day--> red.

4. Today's comment display
* Today's comment can be displayed by doing the enrollee in the tap.

5. Biorhythm charts.
* Top view : one month unit.
* Bottom view: 3 months unit.

6. The display of the biorhythm graph can be changed.
* The comment on a specified day is displayed by the double tap.
* Three element display of biorhythm at given date (Move by the right and left arrow icon in the lower).
* Birthday graph.
* Today's graph.
* It jumps to the given date.
* Change in one day.
* Change in one month.
* Change in 3 months.
* Change in 1 year.
* Changed in 10 years.


Other.
* 1582 Cannot be displayed.
* 300 Years earlier cannot be correctly displayed.
Biorhythm+ 2.603 Update
support iPhone6, iPhone6s,iPhone6plus, iPhone6s plus
More
More Information
Language:

English

Japanese

More