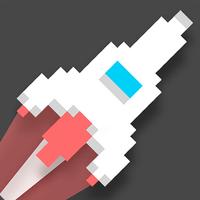 Bit Blaster - Addictive Arcade Shoot 'em Up
Free Get
Screenshots for iPhone
More Screenshots for iPad
Bit Blaster - Addictive Arcade Shoot 'em Up Description
A throwback to the classic quarter eating arcade games of the 80's; Bit Blaster XL is a retro styled, addictive, and fast paced arcade shoot 'em up! (shmup).

Your ship can not stop moving; so turn it left and right by touching the screen to keep from running into an ever increasing amount of enemies. Your ship is always shooting, so make sure to pick up more ammo and the variety of awesome power ups to help you survive longer. Get the highest score you can while collecting coins to buy more ships that fly faster, shoot faster, or have more shields.

------------------
FEATURES:
------------------
● Simple One Touch arcade Controls
● A variety of wicked Power ups including; Split Shot, Heat seekers, Lasers, Blast Shot and much more.
● A handful of powerful unlockable retro ships with to pilot with unique attributes so you can play your way
● Endless survival (infinite) score chasing game play with a classic arcade style
● Cool retro pixel graphics
● Unique chiptune songs for each ship
● Leaderboards for each ship
● Achievements
● An incredibly addictive and fast arcade style survival score chaser

------------------
CONTACT:
------------------
Do not hesitate to contact me if there are any problems with the game:
Email: info@nickervision.com
Website : http://www.nickervision.com
Twitter : https://twitter.com/nickervision

I have been learning to make games in my free time and I am always open to constructive criticism to help me make this, and all my games better. I hope you enjoy it and share with family and friends.
-Adam

------------------
Audio was provided by my mouth and some royalty free SFX from:
http://www.freesfx.co.uk
The music in the game is by the artist "Spiff Tune" and can be found on soundcloud to download for free.
Bit Blaster - Addictive Arcade Shoot 'em Up 10 Update
Modified some GFX and code to allow smoother gameplay and better looking game.
Added Achievements to unlock
Added IAP's to remove the Ads or unlock all ships.
More