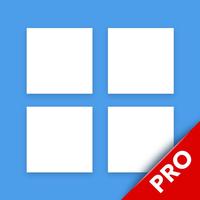 Bitsboard Flashcards PRO
$42.99
Screenshots for iPhone
More Screenshots for iPad
Bitsboard Flashcards PRO Description
- Top 5 Education Game in the US App Store
- Study almost anything for free across 35 addictive mini-games in one app
- Trusted and loved by over 5 million students and teachers world wide

WHY DO TEACHERS LOVE BITSBOARD?
- Create Lessons in 2 minutes or less. Just enter any word and Bitsboard automatically suggests gorgeous images for you and a professionally recorded audio too
- Save valuable time. Once you have created a word list, Bitsboard automatically turns this list into 35 addictive mini games
- Easily add unlimited students and customize Bitsboard for each student
- Bitsboard will automatically adapt each lesson based on the user's knowledge of the content and keep detailed track of their progress
- Create and share user accounts via email or via QR code (student accounts don't even require an email and a passcode)
- Turn boring lessons into competitive multiplayer games that students love
- You can easily create higher level thinking and logic games too such as Related Items, Sequencing, What Comes Next? and Odd One Out
- Everything is automatically backed up and synced across devices
- Works great for one or dozens of students

WHY DO STUDENTS LOVE BITSBOARD?
- Turns each list of words (i.e. flashcards) into 35+ games
- Makes learning more fun
- Competitive multi-player games make Bitsboard ideal for learning with other students
- Variety keeps kids engaged and asking for more

OVER 35+ POWERFUL MINI GAMES / STUDY MODES IN 1 APP INCLUDING

• Flashcards
• Photo Touch
• Memory Cards (1-4 players)
• Pop Quiz
• Match Up
• Word Builder
• Sentence Builder
• Spelling Bee
• BINGO (1-4 players)
• Letter Tracing
• Sequencing
• Related Items
• Word Search
• Crosswords
• Letter Match
• Odd One Out
• What Comes Next?
• Side by Side
• Word Chunks
• Communicator
• Reader
• Questions Game
• Photo Hunt (1-4 players)
• Racing Rivals (2 players)
• Battle Time (2 players)
• Say It Game

TRACKS YOUR PROGRESS
• Bitsboard keeps track of every answer for every game, user, and board

SUPPORTS MULTIPLE USERS
• Bitsboard makes it easy to add multiple users and switch between user accounts
• You can now instantly review the detailed progress for each user
• Automatically saves game settings at the user level

ACCESSIBILITY OPTIONS
• Bitsboard fully supports switch control to make all of the games accessible for users with disabilities

ORGANIZE YOUR BOARDS
• You can now group your boards into classes.
• Each board can fit into as many classes as you like.
• Organize your boards by class, user, subject, and more.

ACCELERATE YOUR LEARNING
• Bitsboard's learning algorithm automatically personalizes each game based on the players skills.
• Bitsboard knows your problem words and when you are ready to move on to your next challenge.

SHARE AND SYNC CONTENT ACROSS DEVICES
• With Bitsboard, you can share and sync your custom lessons across devices with just one click
• With user based cloud sync you can automatically backup all of your students, boards, and user stats and sync everything across devices

BITSBOARD CLASSES
• Share and automatically sync all of your content with other users / students on other devices
• Bitsboard classes are private - only you and the students you approve see your content

CLOUD SYNC
• With cloud sync all of your boards, students, classes, and settings are automatically backed up and sync across all of your devices

QR LOGIN CARDS
• To protect student's privacy you can generate student accounts without any email or password. Once created, you can share the login details of each student account via a simple QR login card. Just email the QR code to your student and they will be able to download the free Bitsboard app and log into their Bitsboard account.

Have questions? We are here to help. Email us at support@happymooseapps.com

Privacy Policy: http://bitsboard.com/privacy-policy
Subscription Terms: http://bitsboard.com/subscription-terms
Bitsboard Flashcards PRO 37.2.1 Update
- Improved Favorites setting and made selecting favorites far more responsive
- Improved Spelling Bee Game
- Added "Show & Correct Mistakes" setting to Spelling Bee so now you can make users see and correct their spelling mistakes before they can proceed
- Added "Audio Hints" to Racing Rivals game.
- Fixed eBook print preview in landscape mode
- Improved Questions game
- Flashcards - fixed prompt with display options
- Flashcards - fixed text layout bugs
- Improved edit boards functionality. You can now drag and drop over multiple bits at once while selecting bits to delete or selecting your favourite bits.
- Improved performance while switching between different users
- Improved editing / updating of existing bits
More
More Information
Language:

Chinese

Czech

Dutch

English

French

German

Japanese

Korean

Portuguese

Romanian

Russian

Spanish

More