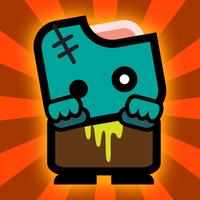 Blast Da Zombie
Free Get
Blast Da Zombie Description
*** Previously featured in iPhone Action Games & iPhone Arcade Games on iTunes ***

Are you ready for the zombie apocalypse?

Blast Da Zombie will help you hone your skills blasting regular zombies, alien zombies, skeleton zombies, and maniac slasher zombies. Not only will you be better prepared for any type of doomsday attack that may come your way.


FUN FACTS:
In 2011, the CDC published the graphic novel Preparedness 101: Zombie Apocalypse promoting disaster preparedness.

Researchers investigating reports of zombies in Haiti in the 1960s found several men who had been given a chemical cocktail, making them appear dead. They were buried, then raised from the dead, beaten, drugged and forced to work on a sugar plantation. When the plantation owner died, they returned to their previous lives, initiating a zombie scare.