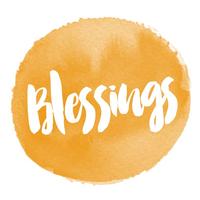 Blessings Stickers
Free Get
Screenshots for iPhone
More Screenshots for iPad
Blessings Stickers Description
Send stickers with happy thoughts, blessings and good wishes to your friends and loved ones.

This sticker pack includes the following messages:
-God is good
-Thank you Jesus!
-#Blessed
-God bless us all
-Thank you!
-Blessed Birthday!
-Pray for me
-Amen!

Optional one time in-app purchase for only $0.99 gives you all of the following stickers:
-Good night, God bless
-Blessings!
-God is good all the time
-Blessed & grateful
-Bless you heart
-God bless your family
-God bless you
-Keeping you in my thoughts & prayers
-Thank you! God bless!
-You're welcome!
-Feeling blessed
-blessed and thankful
-Happy birthday! God bless!
-So very blessed
-AMDG
-For the greater glory of God
- Happy weekend! God Bless!
- God bless your day!
- God be with you!
- God reward you
- Let's keep each other in prayers!
- Keeping you in prayers!
- God bless & keep you!
- Abundance!
- With prayers...
- Warm thoughts...
- May you be blessed!
- May angels guide your way!

A total of 43 stickers to choose from. :)

If you can't find this sticker/app once you have downloaded it, please do the following:

1. Click on the STORE icon on your iMessage App drawer
2. Click on the Manage tab inside the iMessage App Store
3. Look for Blessings Stickers on the list
4. Turn on Switch (Green means on, Gray means off)

Now, it should be there in your iMessage App Drawer.

If you have any suggestions or questions, don't hesitate to send us a message at team@tecsoftapps.com. We are happy to help.

Thank you for downloading! :)
Blessings Stickers 1.1 Update
Added new stickers for people who bought the in-app purchase (those who have unlocked all the blessings stickers).
- Happy weekend! God Bless!
- God bless your day!
- God be with you!
- God reward you
- Let's keep each other in prayers!
- Keeping you in prayers!
- God bless & keep you!
- Abundance!
- With prayers...
- Warm thoughts...
- May you be blessed!
- May angels guide your way!
Now you have 43 blessings stickers to choose from.
Other updates:
- Fixed minor bugs
- Added our sticker board (we made some cool stickers that you might also like)
If you have any suggestions, just send us an email at team@tecsoftapps.com or post it in the review. If you have time to give us a review or rate us, please do. It really helps. Thanks.
We would like to thank everyone who have bought our stickers. Special shout out to Jasmine L. for your suggestions, rate, and review. We really appreciate it. Hope everyone loves the update. :)
More